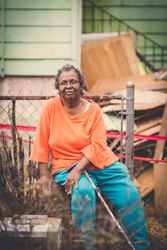 To watch the home my parents put so much love into fall into disrepair and not be able to do anything…" Her voice breaks and the smile that has been constant fades to tears, "It was heartbreaking."
Durham, NC (PRWEB) December 23, 2015
Kenneth Combs, CEO of CQC Home, a Durham remodeling company, was born and raised in Durham. He spent years in Durham foster care and had a hard upbringing. He worked hard to change his life and counts his blessings. So every year he looks for ways to give back to the community.
He heard that Linnette Pettiford needed a roof repair. When he arrived, he saw far more damage that made the home unsafe. So he offered to fix it all.
Ms. Pettiford lives in Walltown, a predominantly African American working class neighborhood of Durham. She says, "I'm a single woman, with a handicap, who can't contribute to the household income. To watch the home my parents put so much love into fall into disrepair and not be able to do anything…" Her voice breaks and the smile that has been constant fades to tears, "It was heartbreaking." Through her tears, her relief is so apparent. She takes a moment, a breath, then says, "I've been praying for someone to fix the roof. When Ken came and said how much MORE he was going to do… My heart got so full! I knew it was God bringing Ken to us. I'm so grateful. So grateful. Ken is my Christmas Angel."
The past two days, the CQC Staff and neighborhood are working hard, in the rain, to try and get the home dried-in for her to move back in before Christmas. 
We've seen a flurry of online support turn into donations of time, money, and materials. Donations from the community are MUCH appreciated! The costs of the repairs are much bigger than they anticipated. This is the opportunity for the community to be the best of humanity.
Full first person story: https://www.facebook.com/imanwoodscreative/posts/1017431558313186
Iman Woods iman(at)cqchome.com
303-834-0645