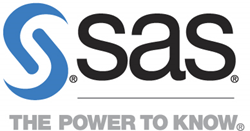 (PRWEB) December 23, 2015
Building on its strong executive management team, SAS has promoted long-time SAS veterans Randy Guard and Fritz Lehman to Chief Marketing Officer and Chief Customer Officer, respectively. The changes draw on the deep bench of leadership within SAS.
"Randy and Fritz have been influential in SAS product direction and customer engagement for many years," said Jim Goodnight, SAS Chief Executive Officer. "Their leadership and experience are valuable assets to my executive team, and will be integral in helping me lead the company and serve our customers."
Chief Marketing Officer, Randy Guard
Prior to becoming CMO, Randy Guard was Vice President of Products, Marketing and Enablement, where he focused on driving product direction, marketing and sales support activities, as well as building a global team of domain experts. He has also held consulting positions at Andersen Consulting (now Accenture). As CMO, he is now responsible for the SAS brand, as well as the strategic vision and direction for SAS® software and services. "I have been with SAS for more than 15 years and have enjoyed the ongoing opportunities to help our customers adapt to their changing markets," said Guard. "I look forward to driving the marketing and sales enablement efforts that build on the innovation that has always been at the heart of what we do, so that SAS – and our customers – are able to take advantage of the evolving analytics landscape." Guard will oversee operational business units including product management, global marketing, communications and creative services.
Chief Customer Officer, Fritz Lehman
A 31-year SAS veteran, Fritz Lehman was the Senior Vice President of Customer Engagement and Support before assuming the new Chief Customer Officer title. "Our customers expect the best from us and our goal is to never stop delivering on that expectation. It's one reason why our satisfaction rates are so high," said Lehman. "This new role was created with the purpose of ensuring the SAS customer experience continues to be top-notch. Our 'customer-first' strategy unites various departments that are focused on streamlining and optimizing how a customer works with SAS across all our channels. This unification will help our customers succeed with SAS." Lehman will continue leading SAS global professional services, technical support, education and documentation divisions, as well as the U.S. customer loyalty team.
About SAS
SAS is the leader in analytics. Through innovative analytics, business intelligence and data management software and services, SAS helps customers at more than 75,000 sites make better decisions faster. Since 1976, SAS has been giving customers around the world THE POWER TO KNOW®.
SAS and all other SAS Institute Inc. product or service names are registered trademarks or trademarks of SAS Institute Inc. in the USA and other countries. ® indicates USA registration. Other brand and product names are trademarks of their respective companies. Copyright © 2016 SAS Institute Inc. All rights reserved.