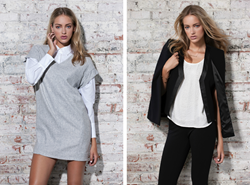 "Our goal is to enhance confidence and attitude through fashion, while maintaining the artistic side of her story." - Billy Kang, CEO
Los Angeles, California (PRWEB) December 24, 2015
Robin K Clothing has revealed their latest apparel for Ro & De Noir.
"Ro & De Noir is our own evolution in bold 'Her' style," says Billy Kang, CEO of the Los Angeles-based brand. "Our goal is to enhance confidence and attitude through fashion, while maintaining the artistic side of her story."
Launched in Los Angeles in 2014, Ro & De Noir is the premium upgrade from the Ro & De line familiar to shoppers at Nordstrom. Ever evolving, the company has taken the growth in stride, announcing a bold business strategy for 2016. The new collection is defined by higher fashion and a more defined aesthetic, and features updated concepts for tops, knits, dresses, and outerwear, among others. The company expanded to Asia this past August, and continues to develop its premier style for all international markets.
The launch has already generated widespread interest online, with popular bloggers and Instagram users discussing which pieces best fit their outfits for 2016.
The entire collection is available for purchase now on http://www.RoandDeNoir.com