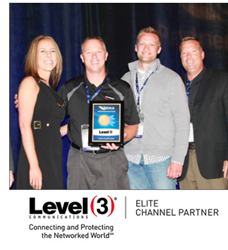 Sandy, Utah (PRWEB) January 05, 2016
Telarus, Inc., master agent of business data, voice, cloud and data center services, today announced it has attained Elite Channel Partner status as part of the Level 3 Communications Channel Partner Program.
"Telarus is honored and proud to be recognized as a Level 3 Elite partner," said Doug Tolley, SVP of sales for Telarus. "Our partners know Level 3 delivers a world-class scalable network that serves as the backbone of all of the Cloud solutions they sell. They also know Level 3 will go above and beyond to support them in their sales efforts, which is even more important. That is the main reason we've grown so much with Level 3."
As a global leader in delivering a comprehensive portfolio of network services, including voice, data, video and security solutions, Level 3 works with channel partners to provide the building blocks to grow their business. The Level 3 Channel Partner Program includes three tiers – Elite, Premier and Authorized. Elite partner status is awarded to a select group of channel partners who achieve specific sales and revenue performance targets.
"Level 3 is pleased to recognize Telarus as an Elite Channel Partner," said Garrett Gee, vice president of sales, Level 3. "Seeing Telarus reach Elite status doesn't come as a surprise to anyone who understands their value. Their continued innovation and support of their partners will continue to be a key indicator of future success."
After it's acquisition of VoIP diagnostic software manufacturer, VXSuite, in September 2015, Telarus announced it would offer free circuit monitoring on all circuits sourced through it's contracts, including Level 3. This complimentary service allows channel partners of all types to offer a product superior to that of their competition for the same price.
"Telarus has always been dedicated to helping our partners improve their chances of making sales, especially enterprise solutions," said Adam Edwards, CEO and co-founder of Telarus. "The Level 3 Elite Partner designation is further validation of our ongoing dedication to delivering the most innovative, next-generation set of products to our partners in order to accomplish that. We look forward to continuing to expand our success as a top sales partner for Level 3."
ABOUT TELARUS
Telarus is a technology services master agent who holds contracts with over 50 data, voice, and cloud providers. To help our partners See What Others Can't, we have created a set of tools to help them win more business. We are proud to offer our partners:
-Complimentary monitoring the performance of all circuits ordered
-Patented pricing tools aide in carrier selection/optimization
-Cloud engineers to aid partners in complex network design
-Project management team to ensure the services ordered are turned up properly
-Base management to allow partners to focus on selling while our team manages the renewal process
Telarus was voted the best master agent by the members of the Telecom Association for over five years in a row and is a top 3 channel partner for nearly all providers it represents.
For more information about the Telarus partner program, visit us online at http://www.telarus.com/partners or give us a call at 877-346-3232.