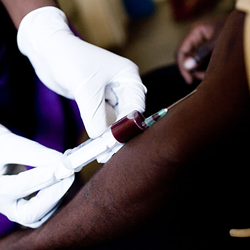 The next five years are crucial for meeting global UNAIDS targets, to fast-track the HIV response and maintain the gains made over the last 35 years.
(PRWEB) December 24, 2015
December 1, the world celebrated World AIDS Day, PCI is celebrating the significant progress made to end HIV/AIDS worldwide. PCI has come such a long way over the last 35 years but there's still more work to be done.
HIV is the world's leading infectious killer. Currently, there are more than 35 million people living with HIV/AIDS worldwide. Of these, 3.2 million are children. Additionally, AIDS is the number one cause of death among adolescents in Africa.
The HIV epidemic not only affects the health of individuals, it impacts households, communities, and the development and economic growth of nations. Many of the countries hardest hit by HIV also suffer from other infectious diseases, food insecurity, and other serious problems.
Since the early 1990s, PCI has been active in the HIV/AIDS response and their work spans the range of prevention, care, treatment and support interventions in several countries around the world including three in sub-Saharan Africa.
PCI is implementing 15 major HIV/AIDS-related programs funded by the President's Emergency Plan for AIDS Relief (PEPFAR) through several USG agencies such as Centers for Disease Control and Prevention (CDC), Department of Defense (DOD), United States Agency for International Development (USAID), and US Department of Health and Human Services (HHS), and in collaboration with hundreds of local, national and international organizations and partner agencies.
PCI remains committed to contributing to the UNAIDS Fast Track Approach and UNAIDS Global Targets to control the epidemic with 90-90-90 by 2020:

90% of those with HIV tested and know their status,
90% of those with HIV on treatment, and
90% of those on treatment with suppressed viral load reducing risk of transmission to others by 2020.
For more information please visit - pciglobal.org/hiv-aids
###
ABOUT PCI: PCI is a global development organization that drives innovation from the ground up to enhance health, end hunger and overcome hardship—resulting in meaningful and measurable change in people's lives. PCI envisions a world where communities are able to provide for the health and well-being of their members, and children and families can achieve lives of hope, good health and self-sufficiency. For more information, visit http://www.pciglobal.org and follow @PCIglobal on Twitter.