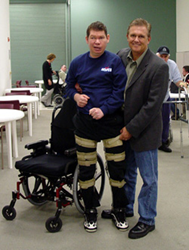 Tustin, CA (PRWEB) December 24, 2015
High Hopes Head Injury Program was founded in 1975, so the effects of football-related brain injury are nothing new to the people who work to help rehabilitate students there every day. But the ramifications of head injuries and the discovery of "Chronic Traumatic Encephalopathy" or (CTE) and its relationship to football may be news to millions of fans who will have the chance to see the new movie entitled "Concussion", starring Will Smith. The movie opens December 25, 2015 in theaters everywhere. The movie tells the story of how CTE was first discovered and linked to professional football.
"The attention that a star like Will Smith can bring to an issue like this is hard to measure," said Mark Desmond of High Hopes Head Injury Prevention Program. "My hope is that increased knowledge will lead to better equipment for the players and rules designed to help protect them as well."
Chronic Traumatic Encephalopathy And Football
CTE is a progressive and degenerative disease that occurs in people with a history of repetitive brain injury. It was first recognized during the 1930's and often called "punch drunk", as it was thought to only affect boxers. In the early 2000s, neuropathologist Bennet Omalu (who is portrayed by Smith in the new movie) worked on the case of football player Mike Webster, who had died at the age of 50 following what many now believe was dementia.
Mike Webster
Mike Webster played center for the Pittsburgh Steelers and the Kansas City Chiefs from 1974 to 1990. Regarded as among, if not the best center to ever play football, since his death has become a symbol for head injuries in the NFL.
Dr. Omalu
In 2005 Omalu, along with colleagues in the Department of Pathology at the University of Pittsburgh, published findings in the journal "Neurosurgery" in a paper which he titled "Chronic Traumatic Encephalopathy in a National Football League Player." While study and controversy about CTE and professional sports continue, Desmond and his colleagues work to restore as much personal independence to individuals as possible, regardless of the type or severity of the injury.
Head Injury Causes
Causes of traumatic brain injury are most often caused by auto accidents. Military service veterans returning from Iraq and Afghanistan also suffered devastating head injuries caused by exploding mines and so called 'IED's'. Other causes include falls, sports-related injuries, assault, motorcycle accidents, and stroke. "Our treatment regimen is unique and has been successful restoring cognitive skills that were thought lost," Desmond said. "We have helped those who were thought beyond hope. We never give up on anyone regardless of their prognosis."
The Media Is The Message
The medium of film to tells the story of players like Webster in a way that is different from reading or hearing about CTE in a newspaper, radio or television. "Concussion" is the next best thing to video of these tragedies. As sports writer Michael Gelkin wrote, "'Concussion' brings CTE to life. There is power in video. The medium can capture what the written word cannot. Seeing is believing. Such is the value of "Concussion."
To Donate To The High Hope Head Injury Program
For more information about High Hopes or to donate go to:
http://www.highhopes.ws/
High Hopes Head Injury Program
2953 Edinger Ave, Tustin, California 92780,
Phone: 949-733-0044 Fax: 949-733-0041
To arrange an interview contact Harold Nicoll, APR at haroldnicoll(at)gmail(dot)com or 979 292 8026.