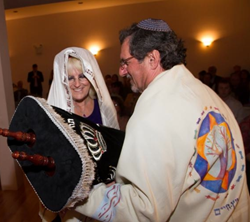 My Rabbinic ordination from JSLI allowed me to fullfill a quest of 35 years.
New York, NY (PRWEB) December 28, 2015
Ordination, or the conferring of holy orders, is the process by which individuals are consecrated, that is, set apart as clergy to perform various religious rites and ceremonies. The Jewish Spiritual Leaders' Institute (JSLI) has been training Rabbis since 2010 to serve the needs of modern Jewry. According to the Pew Report, millions of Jews are unaffiliated and/or in interfaith relationships. JSLI Rabbis are being prepared to minister to the Jew of today given that the make up of Judaism, its denominations and religious observance is changing. On January 16th in Delray Beach, Florida, the Jewish Spiritual Leaders' Institute (JSLI) will celebrate the ordination of its 100th Rabbi
Many students who come to JSLI are seeking to validate the work they are already doing. Most have been doing professional Jewish work as educators, chaplains, even clergy already and do not have the time nor means to attend a traditional seminary that requires multiple years of study at great expense and includes a year living in Israel.
The traditional act of ordaining a Rabbi is for a candidate to appear before a Bet Din – a group of three Rabbis – who confer ordination. Rabbi Steve Blane began JSLI in response to the needs of Jewish professionals wanting to fulfill their calling of becoming a Rabbi. As one mature JSLI Rabbi, Norman Maybloom, notes, "My Rabbinic ordination from JSLI allowed me to fulfill a quest of 35 years. I was encouraged along the path by Rabbi Steven Blane and my fellow Rabbinical students from diverse backgrounds. The pride and allegiance that I have for JSLI is unbounded, for now I can follow in the footsteps of my father and grandfather as a Rabbi. I am now a religious leader to my retirement community housing about 1,000 Jewish senior citizens."
The Jewish Spiritual Leaders' Institute is the rabbinical school for professionals and Sim Shalom, the online synagogue, is the ordaining body. For more information, visit http://www.jsli.net.
About Sim Shalom
Sim Shalom is an interactive online Jewish Universalist synagogue which is liberal in thought and traditional in liturgy. Created in 2009 by Rabbi Steven Blane on Manhattan's Upper West Side, Sim Shalom offers a means of connecting the unconnected. Rabbi Blane leads accessible and short Kabbalt Shabbat services every Friday night using a virtual interface and, additionally, Sim Shalom provides online education programs, Jazz concerts, conversion and life-cycle ceremonies along with weeknight services at 7:00PM EST led by Rabbis and students of this online community.
Rabbi Blane is also the founder and director of the Jewish Spiritual Leader's Institute (http://www.jsli.net), the online professional rabbinical program.
Sim Shalom, a non profit 501 © (3) tax-exempt organization, nurtures a Jewish connection through its mission of innovative services, creative education and dynamic outreach to the global community. For more information, visit http://www.simshalom.com or call 201-338-0165.