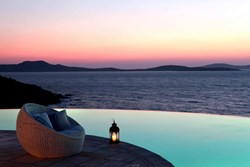 Mykonos (PRWEB) December 29, 2015
MLV Mykonos Luxury Villas announces and launches its brand-new website http://www.mykonosvillas.rentals/, introducing a premium selection of luxury villas in the island of Mykonos Greece chosen according to the highest standards and strictest criteria. The new website is the continuation of the first website of the company, http://www.allmykonosvillas.com/.
Visitors of the brand-new website will have the chance to browse through a premium selection of luxury Mykonos villas and will be provided with information and details concerning their location, capacity, design and decoration, interior and exterior amenities.
Through the website visitors can also find out about the on-site concierge services offered by MLV and its experienced and well-trained concierge services team, or reach out to its team of Villa Specialists for a specific enquiry or for assistance with their booking.
The highlight and key feature of the website is the "Mykonos blog" where users can find information concerning all the best spots of the island including its stunning beaches, famous brand stores, chic restaurants and hip bars, but also suggestions on how to spend their spare time, such as parties, art galleries, cinemas and sport activities.
The brand-new dynamic website has a fresh and simplified look and creates an entertaining experience for its visitors. It is user friendly in order to allow browsing in an easy and quick but also fun way and is fully responsive in order to adapt perfectly to the screen of the smallest Smartphone or the largest computer.
For those who already know MLV, the initial website allmykonosvillas.com is still up and running with its extensive portfolio of Mykonos villas currently being updated with brand-new properties.
About MLV Mykonos Luxury Villas
MLV Mykonos Luxury Villas is a leading villa rental company in Mykonos Greece which was founded in 2009 by a team of real estate agents passionate about Mykonos and hospitality. The company is currently managing over two hundred luxury villas in Mykonos and its philosophy revolves around impeccable hospitality and quality service in order to create a unique and unforgettable experience for travelers seeking to discover the magic of Mykonos. So far, MLV has successfully accommodated an important clientele of visitors from all over the world including VIP and Hollywood celebrities.
For further information, please visit our websites mykonosvillas.rentals and allmykonosvillas.com or contact us at info(at)mykonosvillas.rentals and info(at)allmykonosvillas.com.