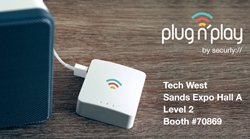 At CES 2016, we are excited to showcase our new Plug n Play Hub and finally give parents everywhere an easy way to ensure safe WiFi for their kids
San Jose, CA (PRWEB) December 29, 2015
Securly, Inc. – the world's leading cloud-based provider of Internet Security for K-12 schools – today announced that it will debut its new Plug n' Play Hub at the CES 2016 show in Las Vegas from January 6-9. The Hub plugs directly into the home WiFi router to instantly provide safe searches, safe YouTube, and safe sites for all kids' devices across the home. Parents' WiFi is not impacted in any way.
The ease of installation of the Plug n' Play Hub represents a significant departure from previous parental control solutions. Up until now, the status quo has involved installing software on every single device in the household. However, this is no longer feasible in a world where the average US home has 6 Internet connected devices (source: the nextweb.com). Said Securly Support Specialist Maurice McClain: "At CES 2016, we are excited to showcase our new Plug n Play Hub and finally give parents everywhere an easy way to ensure safe WiFi for their kids".
Since its inception in 2012, Securly has earned a reputation as a trusted provider of Internet Security for children by protecting millions of students in K-12 schools across the globe. The leadership team has decades of experience in the enterprise network security and education space, and the company has made numerous innovations in its field such as being the first to make the YouTube app safe for all iOS devices and developing a cyberbulllying and self-harm technology that utilizes natural language processing to identify troubling searches and social media posts.
Securly will be providing demonstrations of its product at Tech West, Sands Expo Hall A Level 2, Booth 70869. To arrange a meeting and demo at the Plug n' Play Hub booth, please visit Securly's CES website: http://info.securly.com/ces.
For more information about Plug n' Play Hub, please visit: http://www.plugnplayhub.com.
About Securly:
Securly is a leading provider of cloud-based web filtering for schools and parental controls for homes. The founding team has a combined 20+ years of experience in network security. The company is a venture-backed startup in Silicon Valley and serves thousands of schools in North America, Europe and the Asia Pacific region.