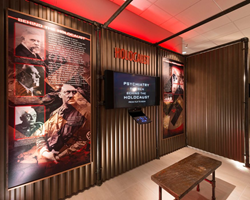 17 million children worldwide taking psychiatric drugs, which can cause suicide, hostility, violence, mania and drug dependence.
Clearwater, Florida (PRWEB) December 28, 2015
Since opening the new headquarters for the Citizens Commission on Human Rights (CCHR) of Florida in July of this year, there have been more than 2,200 tours of the Psychiatry: An Industry of Death museum, which presents the unvarnished history of psychiatry while also providing information on the state of psychiatry today.
"Clearwater is home to an international population and so having the museum documentaries in 17 different languages is a vital part of our work to educate the citizens of Florida on psychiatric abuse and their rights," said Diane Stein, President of CCHR Florida.
Tours of the museum have been given to everyone from a mother who wanted to know how to protect her children from involuntary commitment off of school grounds to entire schools where the students were brought by educators to learn the truth about psychiatry.
A sampling of current statistics shown in the new museum include:
-- Psychiatrists using electroshock, drugs and other barbaric means to torture political dissidents.
-- 17 million children worldwide taking psychiatric drugs, which can cause suicide, hostility, violence, mania and drug dependence.
-- Internationally, 100,000 people die in mental institutions each year at the hands of psychiatrists; whose mistreatment, drugging and neglect of patients are rampant.
-- Annually, psychiatrists kill up to 10,000 people with their use of electroshock-460 volts of electricity sent searing through the brain. Three-quarters of electroshock victims are women.
-- If electroshock doesn't kill women, they could be one of the 250,000 that psychiatrists and psychologists have raped. Studies show that between 10 and 25 percent of psychiatrists sexually assault their patients; 1 in 20 victims is most likely to be a minor.
Visit the museum at 109 N Fort Harrison Avenue Clearwater, FL 33755 for an eye opening tour of the museum visuals and material on psychiatric abuse. Also call (727) 442-8820 or email info(at)cchrflorida(dot)org.
About Citizens Commission on Human Rights:
CCHR is a non-profit, non-political, non-religious mental health watchdog. Initially established by the Church of Scientology and renown psychiatrist Dr. Thomas Szasz in 1969, CCHR's mission is to eradicate abuses committed under the guise of mental health and enact patient and consumer protections. CCHR has helped to enact more than 150 laws protecting individuals from abusive or coercive mental health practices.
CCHR Florida has already proven a major player in the state's fight against psychiatric abuse. After discovering that 55 percent of foster children in Florida had been prescribed powerful mind-altering psychotropic drugs, the commission documented the abuse to the health department which initiated changes that led to a 75 percent reduction in prescriptions for children under six.
Additionally, working with the Florida legislature, CCHR Florida helped enact a law which prohibits public schools' involvement in the psychiatric drugging of children.
Considered a potentially abusive, marketing tool for psychiatrists, CCHR Florida led the charge that got "Teen Screen", mental health screening of school children, banned from Pinellas County schools in 2005. For more information visit, http://www.cchrflorida.org