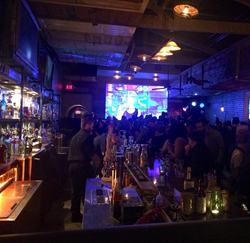 Drinks, Music and Warm Holes...what more could you want for NYE 2016?
Austin, Texas (PRWEB) December 28, 2015
Get this year started on the right foot, with a dietary cleanse. But before running off to buy a new juicer, here's a better idea. What's more cleansing than the crystal-clear purity of vodka, which quickly devolves into the muddied waters of whiskey, and so on and so forth until it's either 2016, or the gates of heaven have opened?
Well, there's only one way to find out, so come on down to Gourdoughs' Big Fat New Year's Eve Bash where the drinks are flowing. Celebrate at either of Gourdough's brick-and-mortar locations, on West 5th from 9 p.m. to 2 a.m. or South Lamar from 9 p.m. to 12 a.m.. Tickets are going for $100 and include the beats of a local DJ, all-inclusive drinks until midnight, party favors and a champagne toast. The location on South Lamar will be serving a pre-fixe meal, and the West 5th location will be dishing up Hors D'oeuvres all night. Age limit 21 and up.
Face it, while everyone is making plans to hit the gym, there are better plans than struggling to squeeze into spandex yoga pants, while fighting for space on the elliptical. Make Gourdoughs the one-stop-shop for 2016. Head over the next day too, for Gourdough's New Year's Eve Hangover Brunch from 11 a.m. to 5 p.m. at both the downtown and South Lamar locations. Enjoy a delicious brunch menu along with Bloody Marys, mimosas, and complimentary black eyed peas and cabbage for good luck. Happy New Year and may it be filled with lots of donuts.
Downtown Location: 209 West 5th Street, Austin, TX 78701
South Lamar Location: 2700 S Lamar Blvd, Austin, TX 78704