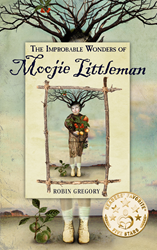 " ... a wonderful contribution to children's literature."—Nicholas Beatty, Executive Director, Gelett Burgess Center
Carmel, CA (PRWEB) December 28, 2015
Mad Mystical Journey Press is thrilled to announce that "The Improbable Wonders of Moojie Littleman," by Robin Gregory, was just awarded the 2015 Gelett Burgess Award for Children's Literature.
Set at the turn of the nineteenth century, it is a heartrending, coming-of-age story, with a dose of humor and magical realism. After his mother dies, eight year-old, disabled Moojie is sent to live with his grandfather at St. Isidore's Fainting Goat Dairy, where he befriends a clan from an alternate universe. Six years later, this forbidden friendship and subsequent events reveal an extraordinary boy's tale of loss and connection, first love, and self-discovery.
"The book's mysticism is lucidly presented, and its magical realism is effective, moving, and heartening. A lively, original take on a story of a boy with more limits—and more magic—than most."—Kirkus Reviews
"Gregory imbues her story with a power and unity that make it a genuine page turner … it simply makes a superb read."—Book Viral
"Wow! Wonderful lyricism and magical reality. Captivating."—Lisa Rojany, author of award-winning "Surviving the Angel of Death"
"Gregory's storytelling skills are inspired and make this mythologically-based, historical novel a delight to read. Some passages are so lovely that I found myself rereading them to more fully appreciate the masterful blending of sound, sense and meaning."—Reader's Favorite
ROBIN GREGORY has been by turns a journalist, lay minister, and infant massage instructor with mothers and babies at-risk. She lives in California with her husband and son.
"The Improbable Wonders of Moojie Littleman" is available from bookstores or Amazon.
Publisher: Mad Mystical Journey Press
Foreign rights agent: victoria(at)champagnerights(dot)com
Distributer: IngramSpark
Genre: Young Adult (12+)
Pages: 294
ISBN: 978-1-942545-002 Paperback $14.00
ISBN 978-1-942545-01-9 eBooks $6.99