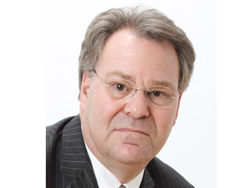 Parents are any child's best advocate but they need good information to do so.
Westport, CT (PRWEB) December 29, 2015
Smart Kids with Learning Disabilities, Inc. (SKLD) elected business innovator, Peter Novins of Stamford, to its board of directors. He is a leading authority on knowledge management and collaborative work practices. The nonprofit also announced its launch of a pre-literacy skills program, beginning January, 2016 at the Westport/Weston Y.
Peter Novins is a founder and Chief Executive Officer of ZenCompliance, a venture-backed software development firm in Stamford, Connecticut. Previously, he was the Chief Operating Officer for Steele International Group in San Francisco; Partner with V Shift, LLC in New York City; and Global Chief Operating Officer for Proudfoot Consulting/MCG Plc. in London.
Known globally for his innovative business solutions, he is also a former Partner and Global Practice Leader for Ernst & Young, LLP. During his tenure, he founded the firm's Knowledge Management practice and was selected as one of five National Innovation Partners.
He is recognized worldwide for his expertise in operational effectiveness. As a senior business executive, he has worked with top-tier global consultancies and professional services companies in Latin America, the Middle East and Africa. He has also lived in those areas.
He is a graduate of Northwestern University. He earned his MBA from the Harvard Business School. Among his honors, he was a member of the Microsoft Partner Advisory Council and a Fellow of the Center for Business Innovation. He also was a featured speaker at the Cisco Executive Briefing Center.
Further, he is the parent of a former student at Eagle Hill School in Greenwich. The school is private. It offers individualized academic programs for children with language-based learning disabilities, such as dyslexia. Its mission is to help these children become resourceful, capable students with the self-confidence and character to meet the challenges they will face as life-long learners.
Peter Novins expressed his delight when asked to serve on the board of Smart Kids with Learning Disabilities (SKLD).
"I am very pleased to join the Board of SKLD," he said. "Parents are any child's best advocate but they need good information to do so. SKLD is doing amazing work assisting parents to be effective advocates. The end result is kids who are succeeding. It's exciting just to be a part of the team that is making such a difference in so many kids' lives."
SKLD's launch of a pre-literacy skills program supported by the Westport/Weston Y will assist parents of pre-school children, age three to five, according to Jane Ross, SKLD's Executive Director.
"Decades ago, the National Institute for Children's Health and Human Development (NICHD) reported that for 50% of all children, reading is a challenge," said Jane Ross, who founded SKLD with a determination to help other parents as clueless as she was when she learned her own son, bright and resourceful, could not read.
Moreover, extensive research has demonstrated that 10% to 15% of children have dyslexia, an unexpected difficulty in learning to read, not based on lack of intelligence or other impairments.
"Without appropriate help and support," reported Jane Ross, "these children frequently experience very poor outcomes both in school and beyond."
The pre-literacy skills program, to be presented at the Westport/Weston Y, will start in mid-January, 2016, and will involve three interactive sessions. The focus for each session will be on the alphabet, the building of language skills and play-writing activities, respectively.
Parents will also learn about red-flag issues indicating that their children may have difficulty learning to read as well as suggestions on what to do to provide appropriate help.
The program will be presented by Kristen Viesselman, MA. She is a former Regional Director of Lindamood-Bell Learning Centers and Special Education teacher with the Westport Public School system. Currently, she delivers one-to-one reading instruction to students with a wide range of learning differences. She also conducts comprehensive reading evaluations in collaboration with Dr. Margie Gillis, President of Literacy How, Inc. in North Haven, Connecticut.
The Westport/Weston Y pre-literacy skills program fee of $50 includes the three sessions, plus hand-outs for activities at home and an alphabet book. The program is limited to 35 participants.
Smart Kids with Learning Disabilities, Inc.
Smart Kids with Learning Disabilities, Inc. is a Westport-based nonprofit organization dedicated to empowering the parents of children with learning disabilities (LD) and attention deficit disorders (ADHD) via its educational programs, award-winning website and blog, and free e-newsletter at http://www.SmartKidswithLD.org. The organization also educates the public about these children's gifts and talents. Connecticut Governor Dannel Malloy is an Honorary Board member and Henry Winkler, Golden Globe award-winning actor, director and author, serves as the organization's Honorary Chairman.
For more information, visit http://www.SmartKidswithLD.org.