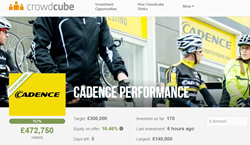 Frank Beechinor, Co-founder and CEO, commented: "This has been an amazing journey and it is flattering that we have had such a fantastic reaction. Many of those investing are our own customers."
LOndon (PRWEB UK) 28 December 2015
The popular south London cycling hub, Cadence Performance, located in Crystal Palace has just raised £472,800 from 171 investors, to fund expansion. The campaign was run on the Crowdcube, one of the UK's most popular crowdfunding platforms, and launched at the end of November. The campaign was due to complete on 25th December 2015 but, due to the popularity of the campaign, it is now announced that it has been extended to 31st December 2015. There is still time for anyone interested in investing to participate.
Cadence was established 3 years ago and has become one of the most popular cycling hubs in the UK. The business was established by Frank Beechinor and Ray Vella. Ray is a GP in Beckenham and in fact Frank has been a patient of his for the past 25 years.
Cadence was named as the second busiest cycling café in London after Richmond park, according to a Strava survey undertaken in the summer of 2015. It is one of the UK's busiest bike fitting centres and also offers fitness testing, coaching, custom insoles, indoor cycling on Wattbikes, yoga, pilates and sports therapy as well as selling and servicing bikes.
Services are available to customers on a 'pay-as-you-go' basis but regular users can take out a membership, just like a fitness club, but for cyclists. Cadence currently has 237 members paying a monthly subscription. See the video describing the services here https://vimeo.com/146159806.
The funds raised in the crowdfund campaign will be used to open more Cadence sites and the company recently announced plans to open two further sites in 2016 – one in central London and another in NW London. The crowdfund pitch is available to view at http://www.crowdcube.com/cadence.