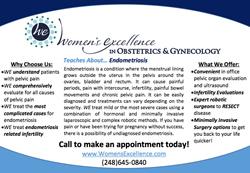 Birmingham, Lake Orion, Clarkston, Metamora, Michigan (PRWEB) December 27, 2015
This week's Women's Excellence tip in the Birmingham-Bloomfield Eagle talks about Endometriosis, symptoms and treatment options. For more information on our Endometriosis treatment options, please visit their website at http://www.womensexcellence.com/endometriosis/.
Endometriosis is a condition where the menstrual lining
grows outside the uterus in the pelvis around the ovaries, bladder and rectum. It can cause painful periods, pain with intercourse, infertility, painful bowel movements and chronic pelvic pain.
Women's Excellence is the most comprehensive obstetric and gynecologic office in Michigan. They also specialize in menopause, weight control, bladder control, endometriosis, robotic surgery, pelvic floor physical therapy, and midwifery services. The knowledgeable, well-trained, compassionate physicians and healthcare providers of Women's Excellence are taking new patients and are conveniently located in four locations throughout southeastern Michigan, Birmingham, Lake Orion, Clarkston and Metamora. For more information, visit http://www.womensexcellence.com