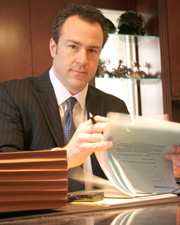 We have to stop calling them toys. They are sophisticated pieces of equipment used at great heights, and as such have great potential to cause serious injury.
Detroit, MI (PRWEB) December 28, 2015
Every year, there are a few toys and gadgets that stand out as "top gifts" for the holidays; some of the more memorable top gifts from years past include Tickle Me Elmo, Furby, and the Wii gaming system, to name a few. While most of these hot items are fairly benign, Personal Injury Lawyer Jason Waechter, of http://www.lawyerforlife.com, has noticed an alarming trend this year: "It seems to me that some of this year's top gifts are potentially dangerous for users and bystanders," he says. "Specifically, drones have been really popular this holiday season; it's easy to see how either of these items could lead to user injury, and also how an inexperienced user could hurt others," he adds.
Drones, also called quadcopters, are small helicopters that fly using four small rotor blades to propel and steer them. Most are flown with a remote control, which can often take the form of a Smartphone app. "Some people see them as a toy, but most are interested in drones as a hobby," says Waechter. "Many are using their drones for aerial photography; real estate agents, tour companies, and even wedding photographers are all getting into that side of it."
The general impression seems to be that because drones are small, they can be considered toys and are "safe". However, there are a number of laws, including a requirement to register drones with the FAA, that have come out in response to the growing number of drones in American homes. In terms of safety, a simple Google search of "quadcopter injuries" reveals more than 84,000 results, many of which are descriptions of injuries caused by quadcopters.
"We have to stop calling them toys," says Waechter. "People need to understand they're using a sophisticated piece of equipment, and they're using it fairly high up in the sky. If they don't know how to manage that equipment, or there is some kind of failure, someone could very easily get hurt." Waechter adds, "Imagine getting a propeller to the face, or having a quadcopter drop on you from the height of a building… you're probably not walking away from that without an injury."
With so many drones being given as gifts this holiday season, Waechter has prepared his team for a rush of calls starting on Monday, December 28th. "We are committed to helping injured people," explains Waechter. "I know a lot of firms are off this week for the holidays, but I wanted to make sure that people who have been injured by a drone, or any other holiday mishap, have somewhere to turn for help. My best people are on the job year-round, and always ready to help."
In fact, the last week of the year is often a busy one for Waechter's firm, which handles all types of injury cases including car accidents, bicycle accidents, and dog or pet attacks, to name a few. "We always hope that people will be safe and enjoy a happy holiday, but we also know that some people are just negligent, and others get hurt," says Waechter.
For more information or to find out if you have a case, visit http://www.lawyerforlife.com to reach Jason Waechter and his team.
*****
Jason Waechter has spent two decades cementing his reputation for results. Over the years, he has won millions for auto accident victims and contributed significantly to safety education and accident prevention. He has entrenched himself as one of the nation's premier lawyers, and works with a team of dedicated professionals to help injured people. If you or a loved one has been injured in an accident, call 1-800-708-5433 to speak with a lawyer who can help.