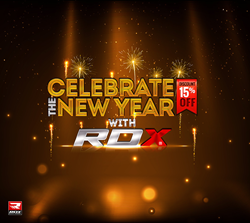 RDX is celebrating New Year with 15% flat discount, to get this offer use "RDX2016" coupon code.
(PRWEB) December 30, 2015
Leading boxing, MMA and fitness manufacturer, RDX Sports are hitting the New Year with a bang with their huge sales.
Not compromising on quality, RDX Sports provides a range of equipment and clothing that meets the needs of any boxing, MMA or fitness fan which delivers on performance and excellence.
Continuing from their huge success with their Boxing Day sales, the RDX's New Year sale will begin on the 31st December and will have up to 60% off selected products from their vast range of equipment and apparel. The sale will also offer 15% off all products in the RDX range using the coupon code: RDX2016, which gives customers even more reason to shop online and grab a bargain.
As the popular New Year sales are always a hit, RDX provides 24-hour customer service and a hassle free returns service to ensure that all customers have a pleasant shopping experience. This customer support is available on their website, via telephone and social media.
RDX Sports offer free worldwide delivery for light items. For UK customers, delivery of any item is free of charge.
The New Year sale will finish on the 3rd January so make sure you grab a bargain before it ends. Visit http://www.rdxsports.com to hit the sales.
Editor notes:
RDX Sports is a British sports brand that has been established since 1999. RDX Sports manufactures and retails a complete range of products for various sports which include MMA equipment, Muay Thai, fitness, boxing equipment, apparel and other accessories which are supplied worldwide.
Bury, UK, rdxsports.com - admin(at)rdxinc(dot)co(dot)uk
Contact:
Rachel Adams
press(at)rdxsports(dot)com
Unit B3, JF Business Center, Fernhill Mill,
Hornby Street
Bury
United Kingdom
+44 808 189 4444