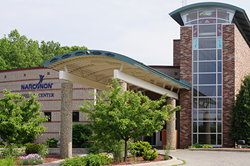 I could finally see a sober future for myself and how I was going to achieve it!
Albion, Michigan (PRWEB) December 30, 2015
Officials of Narconon Freedom Center's drug and alcohol rehabilitation program located in Albion, Michigan announced the release of a new cutting edge recovery program that has been in the making for nearly half-a-century.
Since Narconon's founding in 1966, the program has helped tens of thousands of individuals overcome drug and alcohol addiction across the world. Narconon Freedom Center alone has helped thousands learn how to live a successful and drug-free life since 2002. While it is well documented that the Freedom Center and other Narconon facilities around the world have helped the majority of clients overcome drug and alcohol addiction, there were some who participated in the Narconon program that relapsed after treatment.
Whenever a person isn't successful Narconon's staff takes immediate steps to identify why the person failed and took the necessary actions to make the program better for the next person. This has been the operating basis in Narconon programs all over the world. It is through this process and all those years of experience helping individuals overcome addiction that has led to the new state of the art drug rehabilitation method available now at Narconon Freedom Center.
Narconon's new recovery program is unlike any other drug rehabilitation program available today. The program is comprised of a unique sequence of visual training aids and rehabilitation procedures that eliminate drug cravings, restore physical and mental health, repair damaged relationships, and rebuild self-respect and integrity, which results in the
individual being back in full control of their life with clear direction on how to maintain a sober and productive lifestyle.
As one of Narconon Freedom Center's graduates put it, "I was a mess and completely hopeless upon entering Narconon. Every day during the program was hard for me. I struggled with having to feel again. As I began to progress through the program things started looking brighter and then things started to become more and more possible. I could finally see a sober future for myself and how I was going to achieve it!"
For more information about Narconon Freedom Center or its new treatment program, call 877-639-2909.