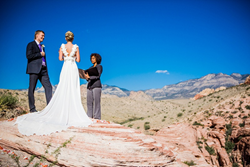 Ever After earned numerous awards for planning destination weddings in 2015
Las Vegas, Nevada (PRWEB) December 29, 2015
Ever After, a destination wedding and venue matching service based in Las Vegas, earned numerous awards from prestigious travel industry leaders earlier this month. Four Ever After agents won Diamond Level honors for their exemplary service booking rooms at Karisma Resorts in 2015.
Travel Impressions also named Ever After a 2015 Globe winner, the highest honor given at the Best of the Best Awards ceremony in December.
Karisma Resorts awarded Ever After destination wedding planner Linda Cole "Diamond Level 1." Dave Victor, another Ever After destination wedding planner was recognized for his "Diamond Level 4" achievement, and elite wedding planning agents Midge and Bob Kramer received "Diamond Level 5" honors as well as the Top 10 Producer for Generations Resorts by Karisma and Top 10 Producer for Azul Hotels by Karisma.
The Karisma Resorts 2015 GIVC (Gourmet Inclusive Vacation Consultant) Awards was the 8th annual gala hosted in Mexico that celebrates the top travel agents from around the world.
"We are so proud of the team at Ever After," said Kelly Kenny, Romance Travel Manager/Vendor Services Manager at EverAfter.com. "Linda Cole, Dale Victor and the dynamic duo of Midge and Bob Kramer are incredibly dedicated to helping our brides and grooms plan the perfect destination wedding. Karisma and Travel Impressions are ideal partners for us, as they share our passion for giving customers the ultimate experience at the best value."
About Ever After
Ever After, EverAfter.com, is a Las Vegas-based free wedding resource that helps engaged couples find their dream wedding destinations and venues. The company offers venue-matching services in Las Vegas, Southern California, Hawaii, Mexico and the Caribbean. Unique to the industry, Ever After offers a Wedding Assurance™ guarantee of up to $100,000 to validate the excellence and integrity of its Bride-Certified Wedding Venues.