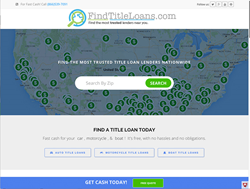 FindTitleLoans is a win-win for the consumer and the loan company.
Chicago IL (PRWEB) December 30, 2015
FindTitleLoans.com, a Chicago-based tech startup, has launched a proprietary online technology that connects loan consumers to lenders in their area. Over a year in development, the concept behind FindTitleLoans.com is to efficiently find reputable local lenders that meet consumers' precise requirements.
The system is transparent and streamlined. The borrower simply needs to type in their location on the FindTitleLoans website, and then is provided with the highest-rated lenders near them with customer reviews. They will receive a free quote on how much money they can borrow using their vehicle title as collateral.
"FindTitleLoans does all the legwork so the borrower doesn't have to," said Find Title Loans Public Relations Director William Smith. "Consumers have access to lending knowledge to make the right decision," he continued.
Not only can a user find the title loan that meets his or her requirements, but also the consumer can find dozens of lenders, sort by requirements, locations, conduct side-by-side comparisons, to do so nearly instantaneously, and at no cost to the borrower or lender.
"It is a win-win for the consumer and the loan company. Armed with greater information, title loan consumers now have a substantially greater ability to find and negotiate better title loan deals," said Smith. "By working with our lenders you could end up saving up to 20% on your repayment, and eliminate the risk of being taken advantage of. It is the philosophy of FindTitleLoans.com that an informed consumer is a better consumer," he added
FindTitleLoans.com prescreens all lenders within their network, and works only with organizations that meet specific requirements. Qualified lenders must adhere to all regulatory provisions, refrain from engaging in any predatory lending practices, and are not negatively rated by the Better Business Bureau. By taking this step, FindTitleLoans.com can be certain that they are working only with the most reputable lenders in the industry.
The Center for Responsible Lending reports that the average auto title borrower nationally renews a loan eight times and pays $2,142 in interest for $941 of credit. "To us at FTL, that's unacceptable," Smith said. "The industry can do better, and it starts with healthy competition."
"Our loans allow individuals with substandard credit access to non-traditional lenders near them and the entire process can be completed from the comfort of home by Internet. It is truly a 21st century system, and particularly convenient for people in remote parts of the country," Smith said."These loan types offer a valuable option for these underserved individuals."