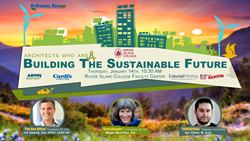 "COP21 highlighted the multi-trillion dollar business opportunities that exist when moving towards the green economy, I feel that sustainable building initiatives, like this event, will be a significant contributor to that growth" - Peter Arpin
Providence, RI (PRWEB) December 29, 2015
On Thursday, January 14, Renewable Now, in partnership with Rhode Island College's Office of Sustainability, will be hosting "Building The Sustainable Future." This event will feature innovative architects who are transforming the built environment and focus on three areas of Green Architecture: commercial, residential, and leisure/modular. Three accomplished architects have been selected to represent each area based on their completed projects, they are:
Commercial: Joe Haskett, AIA, CPHC, LEED AP, of UNION STUDIO, his work, "The Box Office." This project utilized recycled shipping containers and renewable energy to build the first of it's kind sustainable office space in the U.S.
Residential: Megan Moynihan, AIA of OYSTER WORKS, her work "Grasshopper," a 1600 square foot house designed using their "Sensibly Green" approach. The house is located on a FEMA Velocity Flood Zone and was built with the future challenges of climate change in mind.
Leisure/Modular: Igor Zacek, M. Arch, of NICE ARCHITECTS, his work "ECOCAPSULE," an innovative new design that embraces all the principles of sustainability wrapped up into a portable home that can be used for vacations, as well as temporary housing.
Each will present their project, share what inspired it, the challenges they faced, surprises that arose, the rewards, and what was learned. The event will also explore project resources such as grants, tax credits, low interest loans, state incentives, venture capital, and how they may have applied.
Co-hosts for the event are Peter Arpin of The Business Side of Green and Kenneth J. Filarski FAIA, AICP, LEED and Chairman of the U.S. Green Building Council RI. When asked about the importance of such an event Kenneth said, "These times are truly extraordinary. I cannot think of any period since the Renaissance when there was so much taking place, at such a whirlwind pace. Let's make sure we know and understand how to collaborate to develop the vision - how to tell the story - how to plan better - how to craft and shape exceptional designs - how to get down to the nitty gritty of defined actions that work - and how to work with others to make things happen. Let's embrace the joy and the work of giving birth to the BIG IDEAS and the practicalities for crafting and shaping sustainability in its truest sense. Be elegant. Create the magic. Start here. DO THE EXTRAORDINARY!" Peter Arpin said, "With the recent forum at the COP21 that highlighted the multi-trillion dollar business opportunities that exist when moving towards the green economy, I feel that sustainable building initiatives, such as the ones featured at this event, will be a significant contributor to that growth. An event like this is a great opportunity to learn from those already doing it."
"Building The Sustainable Future" is being produced in front of a live audience that will have the opportunity to ask questions. In addition, it will be streamed to a global audience watching on ReNewableNowTV who can submit questions via twitter at #greenarchitectRIC.
The event will be held at Rhode Island College's Faculty Center. Registration begins at 10:00 AM with a complementary breakfast and a meet and greet. Presentations will begin promptly at 11:00 AM and finish by Noon. The event is free; however, you must register in advance to attend by clicking here.