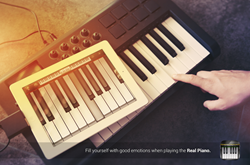 Gismart has been producing high quality music apps for iOS and Android since 2013 with a driving passion for music and mobile.
New York, NY (PRWEB) December 29, 2015
Mobile application Company, Gismart, will be presented at the largest music trade show in the US, the National Association of Music Merchants or NAMM. Gismart will be joining the 1600 plus exhibitors at next year's incredible event and presenting their mobile product to potential partners. Gismart will showcase latest innovations during the show that will be held at the Anaheim Convention Center in Anaheim, CA. January 21st - 24th, 2016
The NAMM trade show allows influential music industry professionals to network and learn about new techniques, technologies, and products, as well as the up and coming music trends. This is why Gismart became registered member and will join next year's event. "NAMM is where the who's who of the industry meets and talks, shop. If your business has to do with music, that NAMM is where you need to be." Mikhael Brovkine stated.The spokesman continued, "We want the music industry to know that we are open for business and for partnerships. We are excited at the opportunity to work with the renown musical instruments' brands being represented at this year's trade show".
The company has been an innovator of high quality music apps for both iOS and Android devices since 2013. With over 3 million downloads on the monthly basis and over 80 million downloads in total, Gismart well known for easy to use innovative applications that allow users to share their music experience. At the NAMM show, the company will host a booth in order to present latest technologies, updates, and apps. Additionally Gismart will use this opportunity to show how future mobile apps will benefit the music industry.
Gismart understands that the future of mobile devices is being redefined with the heavy saturation and advances in the industry. Mobile devices now take advantage of the ways how music software is distributed. Gismart allows partners the option to add brands, including original graphic and sounds to the company's mobile applications.
For more information on mobile applications, visit https://goo.gl/Isous3 (Google play) or https://goo.gl/HmTyp8 (App store).
About Gismart Limited
Gismart has been producing high quality music apps for iOS and Android since 2013 with a driving passion for music and mobile. With easy to use mobile, musical instruments people are able to connect and share the experience worldwide. The community of Gismart users is constantly growing and the team is working hard to update apps to make them even more user friendly.
Gismart is also working with real musical instrument brands and production companies to enrich the experience and make the apps as realistic as possible.