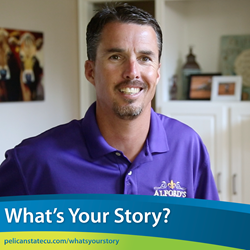 Every member has a personal and unique story; we want to hear that story so we can do everything in our power to help our members.
Baton Rouge, Louisiana (PRWEB) December 30, 2015
Pelican State Credit Union conducted interviews to learn why its members frequently profess their love and loyalty to the credit union. The stories Pelican uncovered during the process of interviewing hundreds of members were nothing short of inspirational, and a video was born titled What's Your Story? In this must-see video, members share their emotional stories about what Pelican means to them.
During the recession that hit in December 2007 and shortly following, it seemed like the favorite word at most financial institutions was "no." No to a line of credit, no to a refinance and even no to college loans - unless your financial institution happened to be a credit union like Pelican State Credit Union.
Not all financial institutions are created equal. By nature, banks and credit unions are drastically different. The biggest difference is credit unions are not-for-profit and owned by the membership. These features allow for greater flexibility and often better rates.
Pelican State Credit Union, a rapidly growing state-charted financial institution anchored in Baton Rouge, Louisiana, stands out from the crowd. The credit union strived to help its members during the recession and continues to work to break down the barriers of traditional banking and aim to help every individual member as much as possible.
Rather than letting the past define members' financial futures, Pelican State Credit Union's employees go the extra mile to do whatever he or she can to help. When was the last time you heard someone say "my financial institution saved my life" or "my financial institution means everything to me"? In this video, you will hear just that and so much more.
The video already has over 16,000 combined views on YouTube and Facebook and is quickly catching attention. Click here to view the video!
"Every member has a personal and unique story; we want to hear that story so we can do everything in our power to help our members," explained Pelican State Credit Union CEO Jeffrey K. Conrad.
###
About Pelican State Credit Union
For over 59 years, Pelican State Credit Union has been making tidal waves in the financial industry as it provides financial services to individuals and their families throughout the state of Louisiana. Pelican offers one of the highest checking account rates in the nation, has an award-winning financial outreach program and focuses on getting to know their members stories, one member at a time. Pelican was originally chartered as the Department of Hospitals Credit Union, located in downtown Baton Rouge, to serve Louisiana charity hospitals, mental health centers and state office personnel. Pelican has since grown into one of the largest state chartered credit unions in Louisiana with 10 locations and counting across the state serving over 40,000 members. For information, visit https://www.pelicanstatecu.com.