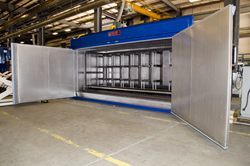 During heat treating applications temperature uniformity is essential to achieving optimal part results. The tire rotation system for this particular oven along with the placement of airflow ensured that the rubber was aged evenly throughout the tire.
East Troy, WI (PRWEB) December 30, 2015
Wisconsin Oven Corporation announced the shipment of an electrically heated batch oven to a leading supplier of the automotive industry for aging rubber tires. This industrial oven was designed with a built in tire rotation system that ensures uniform heating throughout the entire tire. The batch oven has a maximum operating temperature of 300°F and work chamber dimensions of 14'9"W x 6'L x 5'6"H.
This aging oven features guaranteed temperature uniformity of +/-10°F at 230° F that was verified through a nine (9) point profile test conducted in an empty oven chamber under static operating conditions prior to shipment. The recirculation system utilizes two (2) 6,000 CFM @ 7 ½ HP direct driven blowers that are low maintenance and energy efficient. The oven features bottom up airflow that heats each section of the tire evenly as the tires rotate. Supply air is delivered through a fully adjustable boxed duct that is located below the tire rotation system.
Unique features of this industrial oven's tire rotation system include:
•Eight (8) tire positions
•It is rated for 275-pound maximum tire weight
•Fixed guide rollers will be located on the sides
•Variable speed drive with a tire rotation speed range of 2 to 10 RPM
This walk-in batch oven was fully factory tested and adjusted prior to shipment to help reduce installation and start-up times. A 150 point Quality Assurance check list was completed to ensure the equipment met all Wisconsin Oven quality standards. The industrial batch oven is backed by Wisconsin Oven's Exclusive and Unprecedented 3-Year WOW™ warranty. This warranty covers all materials for all components (less wear items).