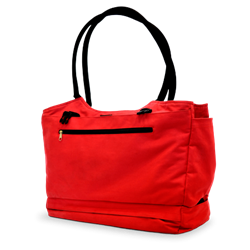 (PRWEB) December 28, 2015
Over 80 million U.S. viewers watched the revolutionary CoolBag receive high accolades during Episode 7 of The Big Pitch, which aired on December 27th. The Big Pitch discovered CoolBag during a pressure-packed five-minute presentation delivered to direct marketing guru and original Shark Tank "Shark" Kevin Harrington and his fellow panelists at the Surf Expo trade show in Orlando.
Viewers who liked CoolBag as much as Harrington and the panel were able to purchase the product during the broadcast.
The patented CoolBag keeps valuables safe with its heavy duty locking handle and combination zipper. The 100 percent cotton canvas with PVC backing allows users to lock up their valuables — even to lounge chairs — to keep them secure even if they step away for a dip in the pool.
The December 27th segment featured excerpts from the pitch with additional footage from Surf Expo and a demo by infomercial star Cory Bergeron. The entire 30-minute program — as well as an individual CoolBag segment — will run continuously at thebigpitchtv.com, where viewers can purchase products anytime at a special price.
"Right up on top there are two sets of handles—one is stitched in, the other is a security cable that makes it totally secure," adds Cory Bergeron. "That's actually my favorite feature of this bag. It's security on-the-go."
The Big Pitch is filmed at major trade shows in the U.S., where the coolest new products debut long before the public sees them. A mobile production unit sets up a multi-camera television studio on-site and pre-screens 150-plus applicants to identify a select group for a day of pitches.
ABOUT COOLBAG
CoolBag LLC was founded in 2013 out of a need for a secure recreational bag, with the support from an array of professionals. CoolBag is like no other with its heavy-duty locking system and sleek look. CoolBag allows the fun to happen so customers can relax and "Stay Cool in Life"™.