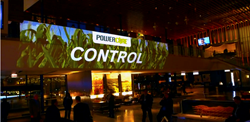 We've gotten a lot of positive feedback from this display
Chicago,IL. (PRWEB) January 01, 2016
Chicago Project Mapping, a Chicagoland-based 3D projection mapping company, once again illustrated the spirit of innovation and invention that annually drives the ASTA Seed Expo during its yearly conference in Chicago. The American Seed Trade Association holds its annual conference at the Hyatt Regency Chicago. Because the venue and the event are both rather large, this year Chicago Projection Mapping increased the size of their 3D display by including more of the lobby wall and by placing white material over glass windows and along the glass balcony. The added surface area enabled Chicago Projection Mapping to take this year's display to the next level.
A highlight video of this years event can be seen on the Chicago Projection Mapping YouTube channel.
As with displays at other conferences and expos, the display created by Chicago Projection Mapping for the ASTA Seed Expo does several things. Running the duration of the conference, the display alternates between pre-determined "shows," branding welcoming attendees to the conference, and specialized displays. These displays not only promote ASTA branding but also give attendees useful information in a novel and attention-getting way. Attendees are welcomed, guided, and entertained with impressive displays of technology and innovation. For these reasons, 3D displays at conferences have become an increasingly popular investment for conference organizers.
"We've gotten a lot of positive feedback from this display," said Mark Smith, owner and founder of Chicago Projection Mapping. "Conferences can be especially tricky to get right. You have to make sure all of the branding is consistent, but you also have a room full of seasoned professionals and you've got to show them something new. I'm really proud of the way we've been able to do that." The success of the ASTA Seed Expo show has already generated positive feedback for Chicago Projection Mapping.
That fits with a growing trend. Conferences, expos, trade shows, and, more broadly, interior events, have become an increasingly common venue for projection mapping displays. The advantages of projection mapping displays on interior surfaces are many: they allow information to be conveyed in a novel way, they can easily get the attention of attendees, and they can be set up and organized well in advance of the conference. These displays also lend conferences and trade shows a certain element of novelty, excitement and prestige. In other words, investing in these displays is a good way to elevate the status of a conference, trade show, or expo of any kind, as the content is completely customizable.
This bodes well for the future of projection mapping during interior events. The ASTA Seed Expo was a resounding success, in part thanks to the work of Chicago Projection Mapping and their partners. If you are interested in finding out what projection mapping could do for your conference or event, contact Chicago Projection Mapping via e. mail at info(at)ChicagoProjectionMapping(dot)com.
About Chicago Projection Mapping: Based in Chicago, IL, Chicago Projection Mapping is a full service content creation and 3D projection mapping company, serving the corporate, event, meeting, and convention sectors. For more information, please visit http://www.ChicagoProjectionMapping.com,
or call 630-620-0000.
Email us at Info(at)ChicagoProjectionMapping(dot)com
CPM capabilities
Permanent Projection Mapping Installations
3D and 4D Projection Mapping Design
Temporary Installation
Consultation on All Aspects of Mapping Process
Show Design and Integration
Pre-Visualization, including storyboards and renderings
In-House 2D and 3D Animation Team
Custom Interactive Design Capabilities
Integration with all major video and media formats
Custom Media Servers for flawless operation
Experience with all standard mapping hardware and software
Partnerships with regional and national hardware vendors
On-Site Setup, Mapping, and Event Operation
Remote access and operation for permanent installations
For more information, please visit
http://www.ChicagoProjectionMapping.com,
or call 630-620-0000.