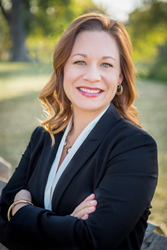 Denver, Colo. (PRWEB) December 29, 2015
Lucila A. Williams, president and founder of LOTUS Financial Partners and registered representative of Lincoln Financial Securities, recently attended the annual Barron's Top Women Advisors Summit, an exclusive conference aimed at sharing best practices, generating new ideas across the industry, and advocating the value of advice to the investing public. Held on December 2 – December 4 in Palm Beach, Fla., the conference was attended by Barron's "Top 100 Women Financial Advisors" and a select group of 400 additional female advisors representing the top level of performers within participating firms.
Attendees participated in peer-led sessions sharing wealth management strategies and heard from recognized keynote speakers from both inside and outside the industry.
"Gathering to honor what makes women advisors unique is so important for the current and next generation of advisors," said Williams. "Barron's Top Women Advisors Summit is a special place where a woman can find the inspiration to take her practice to the highest level!"
Williams has been in the financial services industry for 11 years. Throughout her career, she has been passionate about delivering of independent, objective financial advice to her clients. Her time serving in the U.S. Army has helped refine her unique approach to planning and problem solving, bringing the concepts of discipline and accountability to her clients.
Williams is a current board member of The WISE Group (Women Inspiring, Supporting and Educating), an organization supporting women financial advisors within the Lincoln Financial Network. She is also is part of the Leadership Board for the Center for Workforce Education and Employment, a Denver non-profit that helps people, primarily women, gain independence from government assistance. In addition, Williams and her team at LOTUS Financial Partners have supported the Walk for Sudan for the past seven years.
Williams earned a bachelor of science in business management from University of Phoenix. She holds the professional designations of Certified Financial Planner (CFP®) and Chartered Financial Consultant (ChFC).
LOTUS Financial Partners is located at 1776 S. Jackson Street, Suite 204, Denver, Colo.
About Lincoln Financial Network
Lincoln Financial Network is the marketing name for the retail sales and financial planning affiliates of Lincoln Financial Group and includes Lincoln Financial Advisors Corp. and Lincoln Financial Securities Corp., both members of FINRA and SIPC. Consisting of approximately 8,500 representatives, agents, and full-service financial planners throughout the United States, Lincoln Financial Network professionals can offer financial planning and advisory services, retirement services, life products, annuities, investments, and trust services to affluent individuals, business owners, and families.