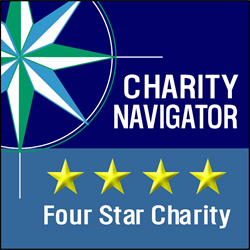 This "exceptional" designation from Charity Navigator differentiates Eva's Village from its peers and demonstrates to the public it is worthy of their trust.
Paterson, New Jersey (PRWEB) December 29, 2015
At Eva's Village, a comprehensive anti-poverty organization in Paterson, New Jersey, holiday appeals and online giving account for more than 40% of their yearly donations. During the holiday season and toward the end of the calendar year, donations to charitable organization increase dramatically compared to the rest of the year. Many people want to show appreciation during the holiday season and as the year comes to a close. Research has shown that as much as 50 percent of charitable donations are made between Thanksgiving and Christmas. "It is a time of year when people feel particularly generous and caring and making charitable donations is ever-present in many people's minds; the holidays simply bring out the best in us" says Marie Reger, executive director at Eva's Village.
Eva's Village, like many nonprofit organizations, counts on the holiday season to boost their donations and help them meet their fundraising goals. They also count on end of year donations to boost their holiday season fundraising. Ms. Reger relates that while donors are generous throughout the year, many wait until the end of the year to make their donations.
Donors looking for holiday and end of year charitable giving opportunities should do their research to make sure the charity is both reputable and qualified. One way to identify a reputable charity is to research their financial information to ensure at least 75% of your donation is used directly for services. All charities have fundraising and administrative expenses, but ideally no more than 25% of donations should be supporting those aspects of the charity. For example, only 13.4% of all donations at Eva's village go towards administrative & fundraising expenses. Charity financial information is typically available from websites such as Charity Navigator. Like many other charities, Eva's Village provides its financial and organizational information to allow for accountability and transparency. Eva's Village holds a fifth consecutive 4-star rating from Charity Navigator. Michael Thatcher, President & Chief Executive Officer, Charity Navigator says, "This "exceptional" designation from Charity Navigator differentiates Eva's Village from its peers and demonstrates to the public it is worthy of their trust."
Originally a New Jersey soup kitchen, Eva's Village was founded in 1982 by Msgr. Vincent E. Puma in response to the increasing incidence of homelessness in Paterson, NJ, but Msgr. Puma soon realized that another New Jersey soup kitchen was not enough. With the generous support of thousands of donors as well as private and government grants, Eva's Village has grown into the most comprehensive anti-poverty program in New Jersey, providing food, shelter, recovery programs, free medical and dental care and transitional and affordable housing, plus opportunities for job training and more.
To donate to this NJ Charity, or for more information about Eva's Village, call (973)-523-6220, go to http://evasvillage.org/donate.shtml or write to: Donna Fico, Senior Director of Program and Resource Development, Eva's Village, 393 Main Street, Paterson, NJ, 07501.