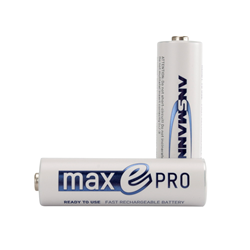 Whether you use two wireless mics or twenty we have the rechargeable batteries that will save you money, year after year.
Blackwood, NJ (PRWEB) December 30, 2015
What do Rob Thomas, Katy Perry, Cirque du Soleil, Blue Man Group, Nine Inch Nails and a host of other production companies have in common? They all utilize Ansmann rechargeable batteries for their wireless mics, IEM's, and wireless guitar rigs.
This past year the Rob Thomas tour joined forces with Ansmann rechargeable batteries and Fischer Amps rack-mount battery chargers to power their wireless gear.
The result? Over $10,000 saved in throw-away batteries.
"We were spending about $1500 a month in batteries for our wireless rigs, " Daniel "Borga" O'Neil, Crew Chief for the Rob Thomas Tour explains, " Now I won't even think about using anything else but Ansmann."
David Schliep, National Sales Manager for Ansmann USA adds: "While this has become a typical response from those who make the switch to Ansmann rechargeables, we occasional encounter some resistance from tour pros - basically because of the poor track record of cheap, "consumer-grade" batteries that simply don't work."
Ansmann offers professional grade rechargeables designed to meet the demands of pro-audio applications, without compromising performance. That's why each year we see an increasing number production companies make the switch.
Ansmann is a 25 year old German-based mobile energy company that specializes in professional grade rechargeable batteries and battery chargers. These are not the typical batteries you'll find in the department store. The differences include higher capacity, extended run-times, higher recycles and state-of-the-art charging stations.
If you're serious about saving money, contact us for help in designing a system for your facility or tour.
Visit us this year at NAMM - January 21-24 Hall E, Booth # 1672