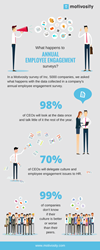 The sad thing is that most CEOs don't understand the importance of culture. If they did, they wouldn't outsource it to HR.
Silicon Slopes, UT (PRWEB) December 29, 2015
Across corporate America, millions of employees just finished participating in annual employee engagement surveys.
These surveys are meant to help CEOs gauge employee loyalty and shape company culture.
Less than 2% of CEOs look at the survey results more than once, according to a survey of Inc. 5000 companies by Motivosity, an employee engagement software firm based in Orem, Utah.
"The sad thing," commented Scott Johnson, Founder and CEO of Motivosity, "is that most CEOs don't understand the importance of culture. If they did, they wouldn't outsource it to HR."
At least, that's what Johnson did when he was the CEO of a fast-growing Inc. 5000 company with nearly 500 global employees.
"Like the 70% of CEOs on the Inc. 5000 list that delegate culture, I used to think that people would be happier if the business was winning. So I focused on winning and hoped the rest would magically follow."
But Johnson is quick to point out that having employees who love coming to work doesn't magically happen because a company is winning.
"Sure, we made the Inc. 5000 list, but I'm convinced we could have done it easier, faster and better if we would have managed employee engagement programmatically. My people problems were 90% the result of culture conflicts from various pockets of the organization."
Apparently many on the Inc. 5000 list can learn from Johnson.
Looking at current employee Glassdoor feedback ratings of top tier Inc. 5000 companies, you encounter sentiment like: "terrible", "micromanagers", and "threats don't motivate".
"I want every company to become a best place to work," claimed Johnson. "So much so, that we'll work with any CEO to measure and benchmark their culture, as well as create a culture plan of attack for 2016 - all for no cost."
Motivosity (http://www.motivosity.com) is the operating system of corporate culture that helps CEOs engage their employees through its employee appreciation, employee survey, and employee idea management software. Motivosity has a 98% user adoption rate.
Note to Editors: A random telephone sampling of 357 of the Inc. 5000 List was conducted the week of November 30, 2015 – December 1, 2015, resulting in a confidence interval of 95%.
Scott Johnson is available for media interviews and commentary by contacting press(at)motivosity(dot)com.