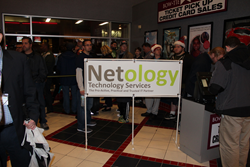 "It was exciting for Netology & Datto to be part of such a unique event. The 200 or so people who attended reinforced the strength of both brands, as well as the buzz around Star Wars."-Chris Zawacki, Principal, Business Development
Stamford, CT (PRWEB) December 30, 2015
Netology, a leader in IT support services, in partnership with Datto, hosted a sold out pre-release showing of Star Wars – The Force Awakens. The event was held prior to the holidays on December 17th at the Bow Tie Cinemas – Majestic 6 on Summer Street, Stamford CT.
The night kicked off with short presentations on the big screen by Netology and Datto. Netology highlighted its long-standing local presence in Connecticut, supporting businesses in Fairfield and Westchester Counties, while noting its successful second office in Manhattan to support the growing client base in New York City.
Datto's presentation illustrated how it has become one of the most innovative providers of comprehensive data backup, recovery, and business continuity solutions in the world.
The Stamford Advocate News covered the movie pre-release.
Some of the pictures taken that night can be found on Netology's Facebook page.
At Netology, we specialize in providing business focused IT support and services for small and mid-sized organizations in the tri-state area. We have offices in Stamford, CT and New York City. We are an award-winning IT firm providing managed IT services and beyond.