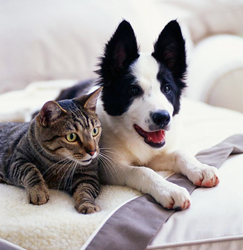 "Arden Moore and Scott Sheaffer will give you important tools and information to maximize the relationship you have with your pet." Joette White, President of Park Cities Pet Sitter
Dallas, Texas (PRWEB) December 29, 2015
Dallas pet-sitting company, Park Cities Pet Sitter, is hosting a four-hour pet information seminar on Sunday, January 24th from 1 pm-5pm titled, "Valuable Dog and Cat Life Skills the Pros Use." The seminar is open to the public, and will be held at the Reverchon Park Recreation Center at 3505 Maple Avenue in Dallas. Cost of the seminar will be $25 for attendees who attend the entire seminar; $10 for attendees who want to attend just the cat-specific segment; and $20 for attendees who want to attend just the dog-specific segment.
The cat-focused segment of the seminar will run from 1pm to 2:15pm on January 24th, and will feature a presentation by national pet health and safety expert, Arden Moore. Moore is author of two dozen pet books, including the best-selling "The Cat Behavior Answer Book" and also hosts the international Oh Behave Show each week on Pet Life Radio. Moore's presentation will cover "The ABC's of C-A-Ts" and will address many of the mystifying behaviors cats often exhibit and what they mean. Topics will include: why some cats suddenly boycott their litter boxes, why cats scratch your furniture, how to cope with an "alarm clock" kitty, how to make veterinary visits less stressful, and how to achieve harmony in your 'bipetual' cat-dog home.
The dog-focused segment of the seminar will run from 2:30pm to 5pm, and will feature a presentation by certified dog behavior consultant, Scott Sheaffer, CDBC, CPDT-KA. Sheaffer specializes in treating dogs with behavior problems, is a consultant for municipal animal control services, and is also a legal consultant in dog bite cases. Sheaffer will discuss "Essential Dog Handling Skills for Every Owner," which will focus on the everyday skills a good dog handler should have, but unfortunately many do not. Reading dog body language will be reviewed, with emphasis on deciphering between dog calming signals vs. stress signals; both positive and negative reinforcement will be addressed, highlighting why positive reinforcement gets better long term results; and Sheaffer will address the issues sometimes seen with rescue dogs and how to best integrate them into a new family situation. 'What if' situations like how to handle a dog fight or what to do if a dog gets off leash will also be discussed. The content will be geared towards pet parents that want to be as skilled and well-informed as possible to promote a healthy and fulfilling relationship with their dog.
Park Cities Pet Sitter President, Joette White, believes that seminars like this one are integral to promoting responsible pet ownership and encouraging healthy pet-human relationships. "Because we service so many pet parents in the Dallas area through Park Cities Pet Sitter, we see some of the pet behavior challenges that can arise in a household," said White. "Many of these challenges are easily resolved if you simply have the right information and know what tools to use to combat them. That is why this seminar is so valuable. Arden Moore and Scott Sheaffer will give you important tools and information to maximize the relationship you have with your pet, and provide some peace of mind if you are struggling with a pet behavior challenge currently. Not only are they incredibly knowledgeable about pet behavior, but both are wonderfully engaging speakers as well. It will be an informative afternoon and a lot of fun," said White.
Registration for the seminar is available online at http://www.pcpsi.com/events.
About Park Cities Pet Sitter: PCPSI has served the Dallas area 7 days a week, 365 days a year since 1992. Pet sitting, daily dog walks, pet taxis, overnight sitting, pet supply shopping, litter box cleaning and dog training are all part of the services PCPSI offers. Park Cities Pet Sitter is bonded and insured, and all sitters are employees--not independent contractors. A manager is on-call 24 hours a day to handle any emergencies. Additional information about Park Cities Pet Sitter can be found on their website at http://www.pcpsi.com.
For more information about Arden Moore, visit http://www.fourleggedlife.com.
For more information about Scott Sheaffer, visit http://www.usadogbehavior.com.