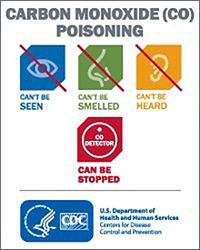 Even low level, chronic exposures to CO can cause delayed neurological problems.
Tarrytown, NY (PRWEB) December 30, 2015
Each cold weather season and during each major power outage, the Life Support Technologies group (LST) sees a spike in Carbon Monoxide (CO) poisoning victims at its northeastern U.S. hospital-based hyperbaric medicine facilities. Here are 5 tips to avoid potentially fatal carbon monoxide poisoning:
1) According to the National Fire Protection Association (NFPA), there were 80,100 non –fire carbon monoxide incidents in the U.S. in year 2010; 170 people die each year in the U.S. from non-automotive CO poisoning, according to the Consumer Product Safety Commission (CPSC). Understand the symptoms and dangers of carbon monoxide so that you can avoid becoming a victim. CO is an odorless, tasteless, highly poisonous gas emitted by furnaces, fuel-burning space heaters, charcoal grills, cooking ranges, water heaters, fireplaces, portable generators, wood-burning stoves, smoke, and car and truck engines. The symptoms of CO poisoning are: dull headache, weakness, dizziness, nausea, vomiting, shortness of breath, confusion, blurred vision, and loss of consciousness. CO poisoning symptoms may be misdiagnosed as flu, food poisoning, or a host of other maladies. When inhaled, CO bonds 230 times more readily with the blood's hemoglobin than oxygen; CO prevents hemoglobin from transporting oxygen. When not fatal, CO can cause serious loss of cognitive function if not detected early and properly treated. You won't know you are inhaling CO until it's too late, so avoidance is the best strategy.
2) Get away from the source of the carbon monoxide immediately if you suspect carbon monoxide poisoning. Evacuate family and occupants from inside a house. If inside a running car, open the windows, and turn off the engine. Get out of the car if possible. Everyone who has been exposed -- or potentially exposed -- to carbon monoxide must be taken promptly to a hospital for evaluation. While waiting for transportation to the hospital and while being transported, persons suspected of having been exposed to carbon monoxide should breathe 100% medical grade oxygen.
3) Carbon Monoxide can overcome unsuspecting individuals or entire families while they sleep. Install multiple carbon monoxide detectors in your home, including near your sleeping areas, but away from appliances or humid areas. Test the units and change batteries regularly. Use a familiar date such as a holiday, a birthday, or an anniversary to remind you of the need to test the detector and change the batteries. Some commercially available products include combination smoke, fire, and carbon monoxide detection units with sealed batteries that are advertised to last for 10 years without needing replacement.
4) Pre-plan your strategy. Have your home heating system – including your fireplace and pellet stove -- serviced before the cold weather sets in. Make sure there are no blockages in the chimney or stove vent pipe that could cause CO to back up into your home. According to the Consumer Product Safety Commission, the spike in CO cases during the first cold weather spells can usually be traced to improperly serviced heating systems. Make sure you ventilate areas in which gas-powered devices are running. Spikes in CO cases resulting from winter storms and power outages are attributed to the increased use of gas-powered emergency electrical generators, the use of fuel-burning space heaters in enclosed areas, and people who try and seek shelter in their running vehicles. If you lose power, or your furnace stops working, do not use propane heaters or bar-b-q units inside your living room or other enclosed space. Heating units designed for outdoors use should not be used inside the home.
5) Have space blankets on hand in your home and your car for all family members. Ensure that everyone has layers of winter-rated thermal clothing, including gloves and hats, to keep them warm so that you don't have to rely solely on gas-powered heat generation devices when the power goes out.
When CO poisoning is diagnosed, the standard of care is Hyperbaric Oxygen Therapy. HBOT involves the patient breathing 100% oxygen while they are under increased atmospheric pressure inside a hyperbaric chamber. Usually, multiple HBOT treatments are required to completely break the carbon monoxide-hemoglobin bond so that the victim's blood can again properly transport life-sustaining oxygen.
LST treats 80% of the NY tri-state area CO cases, including those up to the Canadian border along the Hudson River corridor.
Glenn Butler, CEO of LST, remarked, "We consistently see better clinical outcomes in our carbon monoxide poisoning patients when they receive prompt medical treatment. This would include oxygen by mask immediately and a medical evaluation for a course of Hyperbaric Oxygen Treatment. The CO exposure history is critical. Even low level, chronic exposures to CO can cause delayed neurological problems. CO poisoning is often misdiagnosed as a case of the Flu. If one person in a household is suspected of having CO poisoning, it's very important that all members of the household get out of the house and be evaluated at a hospital immediately. If you suspect CO: get out and call your local fire department to test for CO. The sooner someone gets away from the source of the carbon monoxide and gets on 100% oxygen, the better off they will be. If the source of carbon monoxide is due to a faulty furnace or broken car exhaust system, is it essential that you get professionals to help evaluate and eliminate the CO leak."
The best treatment results are obtained when medical treatment occurs promptly after the onset of CO poisoning.
For more health and safety articles and information, like us on FaceBook (Life Support Technologies Group) and LinkedIn. see our website: http://www.lifesupport-USA.com
For more information see:
Consumer Product Safety Commission (CPSC)
http://www.cpsc.gov
National Fire Protection Association
http://www.NFPA.org
About the Life Support Technologies Group (LST)
The Life Support Technologies Group (LST) is a Tarrytown, NY-based medical and life-support engineering company specializing in Advanced Wound Care and Hyperbaric Medicine Services to hospitals in the NY-NJ-CT region. LST has been in business for over 20 years.
Glenn Butler, CEO
Life Support Technologies Group
(914) 333-8412
http://www.lifesupport-USA.com