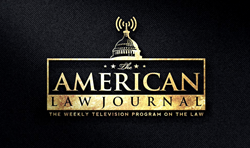 It is very difficult to build a case against a CEO
Philadelphia, PA (PRWEB) December 28, 2015
The new U.S. Department of Justice guidelines of prosecutors placing their priority on individuals first before considering financial settlement for corporate crime is not without controversy or skeptics.
The New York Times, Fortune, the Los Angeles Times and other news outlets featured new Attorney General Loretta Lynch announcing her new approach to hold corporate criminals at the highest levels accountable.
Lawyers on The American Law Journal discuss the issues in the program "White-Collared': Is the Department of Justice Targeting Corporate Executives?" The television program aired on the CNN-News affiliate WFMZ-TV in November of 2015 and is now available online.. Joining host Christopher Naughton were plaintiffs attorney Stephen Sheller of Sheller P.C. and corporate defense attorneys Joseph Poluka of Blank Rome and Michael Mustokoff of Duane Morris. In-house counsel John Ryan of Unilife Corp. joined the conversation.
In the feature report, The Legal Intelligencer's senior staff writer, Gina Passarella, interviewed Linda Dale Hoffa of Dilworth Paxson, former DOJ prosecutor and current corporate counsel, and plaintiffs attorney Brian McCormick of Ross Feller Casey.
"It is very difficult to build a case against a CEO," Poluka said. "Will DOJ have the time and resources to pursue this policy?"
About The American Law Journal
The American Law Journal, recently honored with an Emmy, is the weekly talk-feature program airing Monday evenings on the CNN-News affiliate for Philadelphia WFMZ-TV 69. All programs are available at http://www.LawJournalTV.com.
The program won an Emmy for the program "Sexual Orientation, LGBT & the Workplace: ENDA of Discrimination?" in the Interview/Discussion category of the 2015 Emmy Awards in the Mid Atlantic chapter of the National Academy of Television Arts & Sciences. The program was also nominated in three other categories.