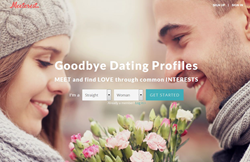 We wanted to focus on the actual date planning process, which provides a truer representation of a person's personality than what is captured in a dating profile
Los Angeles, CA (PRWEB) January 14, 2016
Meeterest: Leveling the Online Dating World and Saying no to Traditional Matching Algorithms
Meeterest provides an online dating platform that allows singles to meet through a more organic process. By placing less emphasis on dating profiles, Meeterest is creating an interactive community that encourages users to display more of their personalities. "The online dating market is saturated with big companies like match.com or eHarmony that connect singles through matching algorithms. The issue with this is that these sophisticated matching algorithms are not yet supported by any credible evidence" says Meeterest spokesperson.
With 1 in 4 couples meeting online, Meeterest is providing a different approach to online dating that "emphasizes a user's interests and the date planning process" says Meeterest spokeperson. "By doing this, singles are able to get a more realistic view of a potential match's personality, which in turn leads to a more meaningful connection."
Parent Company's Proven Success without Emphasizing Dating Profiles
NCB of America, which provides traditional matchmaking services for professional singles, focuses on each client's personality instead of their dating profile.
"The key to our matching success with NCB of America has been hand-selecting matches instead of using matching algorithms based on dating profiles" said Meeterest spokesperson. "The qualities dating profiles focus on like, age, income, or physical traits are less important when it comes to finding a true partner. Even clients with highly desirable dating profiles are rejected if the first date is not planned well. What people care most about is their partner's personality, not their dating resume."
When it came to developing the online platform for Meeterest "we wanted to focus on the actual date planning process, which provides a truer representation of a person's personality than what is captured in a dating profile" said Meeterest spokesperson.
How Meeterest Works
Meeterest is changing the way online dating operates by helping relieve the stress and anxiety associated with dating. To accomplish this, Meeterest enhances the online dating experience by providing the following features:

Connecting singles based on shared interests - Unlike other dating sites, your participation is required. Instead of completing an extensive questionnaire to find matches, users must submit their interests to become searchable in the database.
Savvy date search engine - Avoid sifting through profiles that are not always accurate. Use the date search engine that allows you to narrow down results by selecting a location, specific interests, or by who pays for the date.
Add members to your favorites - Keep in touch with potential matches by having easy access to their profiles. There is no pressure to message someone you're interested in right away because you can always come back to their profile later.
Create fun dates - Let your personality and interests do the talking. Instead of a dating profile, other users will come into contact with you based on the dates you create. Your Meeterest dashboard displays users interested in your created dates and dates you have been invited to.
"Start a chat" to get to know your match - Premium members get to chat and establish a connection prior to going on a date. Since users express interest in dates, this feature helps you get to know potential matches before deciding who to go out with.
About Meeterest and NCB of America, Inc.
Meeterest, the community-based dating site, is owned and operated by NCB of America, Inc., based in Los Angeles, California. In order to be successful in the online dating world, Meeterest believes singles need to create memorable date experiences and be true to their personalities. To capture this ideology, Meeterest has created a platform for users to meet other singles by planning dates related to their interests. Meeterest is taking dating back to the basics and making online dating less intimidating. Say goodbye to dating profiles and find love the Meeterest way.