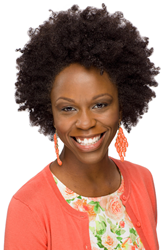 Many women want to create a new reality for their life, but lack the support and the HOW to actually accomplishing their desired goals.
Tampa, FL (PRWEB) December 28, 2015
Rosetta Thurman, founder of HappyBlackWoman.com, nationally-recognized speaker, and author of the #1 Amazon Bestseller Launch Your Business, will host the "2016 Happy Black Woman Empowerment Retreat," a two-day self-development seminar in Tampa, Florida.
"Many women want to create a new reality for their life, but lack the support and the HOW to actually accomplishing their desired goals," remarks women's life coach and business mentor, Rosetta Thurman. That's why during this powerful 2-day retreat, she will be teaching women the same goal-setting strategies she used to quit her job, grow two successful businesses over the past six years and become location-independent!
Rosetta will be in Tampa, Florida on Saturday, January 9th through Sunday, January 10th. Details on location will be provided to you at the time of registration.
This 2-day empowerment retreat will teach women exactly how to find their purpose, build an inspiring vision, and create a plan to ensure they follow-through on their 2016 goals. Attendees will be in the company of like-minded women dedicated to achieving new levels of happiness, success and freedom. Participants will also enjoy Rosetta's "Girls Night In" Vision Board party on Saturday evening where they will create their own inspirational vision boards while deeply connecting with a group of supportive women.
In just 2 Days, attendees will learn specific, step-by-step processes to get clarity, support, and direction to create their best year in 2016.
The Happy Black Woman Empowerment Retreat is absolutely perfect for you if:

You're long overdue for some dedicated "me time" where you can indulge and reflect
You want to build new friendships with like-minded women who are on the path to happiness, success and freedom
You want to finally stop procrastinating and make progress on your personal and professional goals
You have been "in a rut" for months, years or even decades and it's time to get unstuck!
You long to find your purpose and create more meaning in your life and work
You know you're meant for more and desire to cultivate the entrepreneurial spirit within
You need to get clear about your goals for 2016 and beyond
To register for this live 2-day event and to learn more, visit http://www.happyblackwomanretreat.com
About Rosetta Thurman:
Rosetta Thurman is the founder of HappyBlackWoman.com, a supportive community that empowers women all over the world to transform their lives through personal development, leadership and entrepreneurship. She provides high-level training, coaching and mentoring for women who want to create lives of happiness, success and freedom.
As a transformational coach, mentor and Amazon.com bestselling author, Rosetta teaches women how to create profitable online businesses doing what they love so that they can quit their jobs and finally have the freedom to travel and live life on their own terms. Her clients and students value her "tough love" approach to helping them reach their big goals faster than they ever thought possible.
Rosetta has been quoted and featured in numerous media outlets, including JET Magazine, Black Enterprise, Essence and BBC London. She holds a Master's Degree in Organizational Management and has also taught leadership, business and marketing courses as an Adjunct Professor at Trinity Washington University.