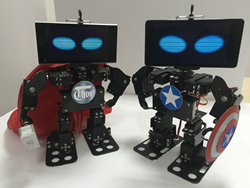 JOCO warriors, mobile phone controlled
(PRWEB) January 07, 2016
Padmate, a subsidiary of Harda (Xiamen) Plastic Co., Ltd., will demonstrate JOCO, the smartphone-controlled mobile robot designed by JornCo engineers, to the public at the upcoming 2016 International Consumer Electronics Show in Las Vegas. Built with delicate sensors and steering engines, JOCO can be connected to any smartphone, transforming into a desktop robot capable of human interaction via face and voice recognition.
Users can communicate with the robot at the touch of a smartphone screen, generating and controlling a range of motions and emotions. JOCO demonstrates its face and voice recognition by sensing and memorizing motion and sound and responding with a greeting, a dance move, or even by engaging in intelligent conversation.
Among its many uses, JOCO can be used in retail stores and public businesses to attract and communicate with customers. Regardless, the JOCO experience can be personalized, acting as the user's super-smart AI sidekick.
CES 2016 attendees can say "hello" to JOCO at booth 74542 (Padmate Technology) in the Sands Expo hall. View map and more exhibitor information here.
About JornCo
JornCo is a team located in Xiamen, China, consisting of robot fans and smart senior engineers. More information can be found at http://www.jornco.com/en/.
About Padmate
Powered by its parent company, Harda Group, Padmate is a Global Leading Manufacturer of Bluetooth and Smart Devices in Xiamen, China, where it is famous for its three "Silicon Valley"-type bases and high quality manufacturing experience in the consumer electronics and light industries. The Group has been working with top 500 companies since 2004. In 2013, the Group was audited by D&B, rating 3A2 with DUNS number: 54-780-1050.
Capability:

Design House. Within Padmate's 33,000 sqft design house, 70+ designers and engineers for Industrial Design, Mechanical Design, Graphic Design, Hardware/Software Design and Production Jigs work together with Project Managers on OEM/ODM projects from global markets. Many of the engineers have devoted 10+ years' experience to R&D and have worked on critical projects from top 500 companies. Sustainable quality and reliability are top priorities.
Testing Lab. In order to ensure the success of project development and the quality of production, Padmate has set up a 10,000 sqft lab equipped with Bluetooth testers, RF testers, Battery charge and discharge testing, Noise level test, Acoustic test, Bluetooth full function test, Humidity test, Cold and Hot Impact test, Moisture test, Salt-fog test, Vibration test, Drop test, Lifespan test, RCA, 3D dimension measuring, Tension test and RoHS analysis and Water pressure test. As new projects come in, we continue to invest in specific testing equipment.
Manufacturing. Padmate is supported by Harda Group with a 270,000 sqft ISO 9001:2008 and ISO 14001-audited manufacturing base, where it has more than 150 sets of state-of-the-art Japanese machines, equipment and tools for mould making, automatic precise injection molding, clean room spray painting, stamping, SMT, automatic gluing, ultrasonic welding, heat press, high frequency cutting and welding, dust-free assembly, laser engraving, logo printing and packing. Thanks to our 500 employees, we have an average monthly output of 1 million pieces.
Padmate can be reached at:
Website: http://www.padmate.cn
Group Website: [http://www.hardagroup.com
Phone: 86 592 5924037
Email: info(at)padmate(dot)com
Or, visit their booth 74542 at Sands Expo hall at 2016 CES!
Information and Design are subject to change without prior notice.
Bluetooth® is the property of SIG.
Padmate® is the property of Harda Group.
Other brands and trademarks are the properties of their own owner.