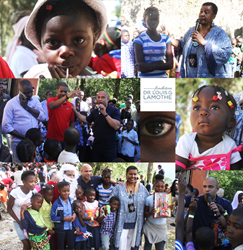 OBLÉON, HAITI (PRWEB) December 31, 2015
The Honorable Laurent S. Lamothe, LSL World Initiative founder and former Prime Minister of the Republic of Haiti, welcomed children from the community Obléon to celebrate Christmas at his home in Haiti. Lamothe opened his home to over 1,000 kids to experience a holiday feast and receive gifts, along with Santa Claus himself.
"Today Santa Claus has thought of and is visiting the children of Obléon," said Laurent Lamothe next to a fully dressed and jovial Santa Claus.
Mr. Lamothe founded the Dr. Louis G. Lamothe Foundation in honor of his late father, with a mission to fight exclusion in a socially divided Haiti by bringing citizens into community-based organizations where their voices can be heard. At its core, the foundation aims to fight poverty and social exclusion by establishing a forum to reinforce social dialogue and societal transformation.
"Haiti is a struggling country in the Western Hemisphere, but that shouldn't keep these kids living in poverty from learning about love, giving and the magic in our world," said Mr. Lamothe. "Every child should have the chance to experience the joy brought on from the meaning of Christmas, and I was happy to extend the invitation to my home to make that happen."
About Dr. Louis G. Lamothe
Dr. Louis G. Lamothe was a rare example of a Haitian intellectual who contributed to drawing Haiti and the Latin American countries closer together in order to advance social causes. His contribution was noteworthy in several different domains, including sport, higher education and particularly the teaching of the Spanish language and the works of great Latin American poets from 1850 to 1950.
After obtaining a degree in Spanish literature in Chile in November 1952, he completed a doctorate in literature in Madrid in 1956. He taught modern languages à the INAGHEI from 1975 to 1983 and at the Faculty of Ethnology from 1980 to 1995. In order to communicate his passion for the Hispanic culture to the younger Haitian generation and promote the language of Cervantès in the country, he founded the Lope de Vega Institute in 1962 and headed it until 1998. Lope de Vega allowed many Haitian executives to embrace the cultures of Latin America and Spain.
At the same time, he contributed to promoting the Haitian culture in Bolivia and Suriname. He remained a member of Suriname's consular corps until his passing.
From 1956 to 1966, he published at least eight books with the goal of facilitating learning of the Spanish language and to provide insight into Latin American and Spanish cultures and literatures. During his career, he also received several prestigious distinctions, including:

Caballero de la Orden de Isabel la Católica (Madrid, July 1975)
Honneur et Mérite de la Orden Mexicana del derecho y de la cultura (Mexico, May 1964)
He married Ghislaine Fortuney, who gave him two sons, Ruben and Laurent Salvador, to whom he has passed along key values, including the modesty, humility and his passion for excellence. A keen football player, Dr. Louis G. Lamothe made a significant contribution to the development of this sport in Haiti, and he encouraged both of his sons to play sports.
Dr. Louis G. Lamothe passed away in 1999. The Louis G. Lamothe Foundation is an initiative that aims to honor his legacy and to carry on his work to create a more inclusive and united society.
About Laurent S. Lamothe
Laurent S. Lamothe successfully served as Prime Minister of Haiti between May 2012 and December 2014, the longest tenure of any Prime Minister in the last three decades. During his time in office, Lamothe presided over the design and implementation of an important social policy agenda that targeted the poorest sectors of the Haitian population. Mr. Lamothe also oversaw the largest infrastructure development in recent memory throughout Haiti, and served as co-chair of the Council for the Economic Development and Investment in Haiti in 2011 with United States President Bill Clinton.
Under Mr. Lamothe's leadership, foreign direct investment increased to the highest level since the fall of the Duvalier dictatorship in the mid-1980s. Mr. Lamothe also pursued reforms that helped make Haiti more business-friendly, including the implementation of 15-year tax holidays and tax breaks to companies investing in the island nation, and increasing the police force by 30 percent.
Mr. Lamothe brought to the office of Prime Minister an entrepreneurial spirit and dynamism that earned him the title of "Entrepreneur of the Year" by Ernst and Young in May 2008. More recently in November 2014, Latin Trade magazine recognized his innovative skills by naming him the year's Innovative Leader of the Americas, noting that Mr. Lamothe "helped establish a paradigm shift for Haiti as a destination for investment, rather than simply for humanitarian aid."
Having grown up in a country affected by poverty and lack of resources at all levels, this savvy businessman has developed a deep sense of social responsibility and a strong tendency to assist those in need. Mr. Lamothe is a pragmatist who, throughout his role serving in the public sector, emphasized practical solutions over partisan politics to address the urgent needs of Haiti.
Mr. Lamothe obtained a Bachelor of Arts in political science from Barry University in Miami and his MBA with honors from the University of St. Thomas.
About LSL World Initiative
The LSL World Initiative (LSLWI) is a global organization dedicated to the socio-economic empowerment of emerging countries founded by Laurent S. Lamothe, a visionary leader driven by a deep sense of global social responsibility. Mr. Lamothe successfully served as Prime Minister of Haiti between May 2012 and December 2014, the longest tenure of any Prime Minister in the last three decades.
Against the bleak background of the global economic crisis, traditional forms of financing for development are under pressure. Countries must find alternative sources of financing or face falling short of achieving Sustainable Development Goals (SDGs). LSL World Initiative's mission is to help governments achieve their SDGs by thinking outside the box of traditional foreign aid to bring proven solutions that identify new revenue sources through innovative financing development mechanisms.
Countries working with LSL World Initiative transparently determine the allocation of funds according to their priorities including vital needs such as clean water, housing development, health and education services. Ultimately, LSL World Initiative empowers countries toward a prosperous, sustainable future through economic self-sufficiency.
For more information, visit http://lslwi.com.