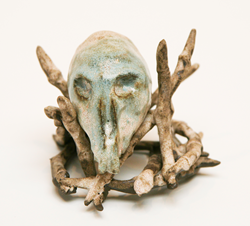 Santa Fe, NM (PRWEB) December 29, 2015
Well-known in New York's interior design circles for his consummate craftsmanship in working with textiles, Monte Coleman has followed a personal passion for the ceramic arts: 'The pieces came about after having visited the Rodin Museum with a friend. I was so taken with the terra cotta pieces that when I got back home I bought terra cotta clay. That friend came to visit and asked what I had made. I had only made flower pots. She said "Get in here; we are going to make skulls. They are easy". These are the results.'
Despite the seemingly macabre subject matter, Coleman's skulls and bones possess a whimsical quality that is inviting, rather than threatening. Neither in scale or form are they accurate representations of human, animal or ornithological anatomies, but are suggestive of structures.
Many of the skeletal shapes are nestled within or resting upon exquisitely turned bowls and vases. Glazes alternate between delicate shades in neutral tonalities and solid, semi-matte blues, greens, oranges, blacks. Each work is unique, with some pieces demonstrating a complex intricacy and others simplified, monolithic in shape. Coleman may joke that 'skulls are easy', but the works presented here are masterpieces in miniature.
Born in Lebanon, Missouri, Coleman studied art and architecture at the University of Missouri. After working in California, he moved to New York in 1980 where he currently resides.
The exhibition of Coleman's new ceramic sculptures, "Heads and Hands", his first with David Richard Gallery that also inaugurates the gallery's new location, will be presented January 15 through February 20, 2016. There will be an artist reception on Friday, January 15 from 5:00 - 7:00 PM. The gallery's new location is at 1570 Pacheco Street, Suite A1, Santa Fe, New Mexico 87505, phone 505-983-9555 in the midtown neighborhood art and design district.
About David Richard Gallery:
Since its inception the gallery has produced museum quality exhibitions that feature Post War abstraction in the US. The presentations have addressed specific decades and geographies as well as certain movements and tendencies. The gallery has produced retrospective group and solo exhibitions, which have included renowned figures such as Richard Anuszkiewicz, Billy Al Bengston, Leon Berkowitz, Judy Chicago, Fred Eversley, Beverly Fishman, Tom Green, Tom Holland, Ward Jackson, Paul Reed, Roland Reiss, Oli Sihvonen, Julian Stanczak, Tadasky, and Sanford Wurmfeld.
While the David Richard Gallery has long been recognized as an important proponent of post-1960s abstraction - including both the influential pioneers as well as a younger generation of practitioners in this field - in keeping with this spirit of nurture and development the gallery presents established and very new artists who embrace more gestural and representational approaches to the making of art. In 2015 alone the gallery has introduced a broad range of abstract and figurative artists into its program, including Michele Bubacco, Angela Fraleigh, Christian Haub, David Humphrey, Martin Mull, Gabriel J. Shuldiner, Claire Sherman, Stephen Westfall and Bryan Whitney.
For additional information please contact: David Eichholtz | 505-983-9555 d(at)DavidRichardGallery.com
Gallery Hours: Tuesday through Saturday, 10 AM to 5 PM
or by appointment