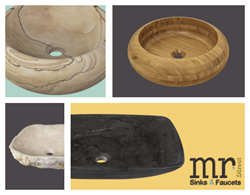 No longer is the consumer limited to choosing only stereotypical round or rectangular basin shapes.
Toledo, Ohio (PRWEB) December 31, 2015
MR Direct is excited to announce the further expansion of its vessel-style bathroom sink series. Just a few weeks after the debut of several ground-breaking models, which have already been applauded for their unique styling; four additional vessels are now being introduced. No longer is the consumer limited to choosing only stereotypical round or rectangular basin shapes. These new vessel styles from MR Direct are both dynamic and unconventional.
The 868 is a very exclusive, hand-honed stone vessel. Limestone is rarely used in the sink industry, but MR Direct decided it was time to offer this bold material in a distinctive design for the bath. It is formed into a wide trough with a flat bottom. Its lower corners sweep upwards and out to form gracefully rounded top corners and sides. Though generally rectangular in shape, the slow curves at each end create a soft, comfortable appearance overall. The deep gray-colored stone is buffed to a smooth, durable, matte finish.
Due to the popularity of the 852 model, a second Sandstone sink, the 869, is now being added to the MR Direct line. This basin takes shape as a very thick circular bowl with a sense of roundness throughout. Delicate beige and cream tones swirl throughout the basin creating an intriguing visual display. Both the interior and exterior are gently sanded to a smooth, very matte yet hard-wearing finish.
Presenting an ironically elegant, yet rustic appearance, the 870 is a beautiful example of natural simplicity. Chiseled from Galaga Beige Marble, this off-white colored bowl follows an irregular up-and-down course along its rim, while it also bulges and recesses around its rough-hewn exterior. Overall this sink takes on an irregular rectangular shape with a highly-polished interior and a centerset drain.
The final new vessel design becomes the fourth bamboo basin in the MR Direct line. The 893 is a perfectly round, very thick bowl. Concentric circles of bamboo run both horizontally and vertically over the total circumference, intertwining to form a distinctive pattern of yellow bamboo tones. This model brings a new appreciation of the beauty of bamboo to the attention of anyone who views it, in any bath.
Further details on these four new models can be found by visiting http://www.MRDirectint.com.