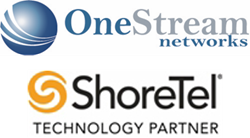 Certified SIP Trunking for ShoreTel onsite phone systems and UC
Rochester, NY (PRWEB) December 30, 2015
OneStream Networks, the leading domestic and international provider of managed and hosted voice, SIP and UC solutions to small, medium and large global enterprises, announced today that its SIP Trunking service is now compliant with collaboration solutions from ShoreTel, the leading provider of brilliantly simple phone systems and Unified Communications (UC) solutions.
OneStream's SIP Trunking service enables enterprises to consolidate and simplify PSTN, local number and Toll Free services driving reduced cost and simplified management of Unified Communications and Collaboration (UCC) and phone system services in over 65 countries and 8,000 cities worldwide. By leveraging existing or new network environments, enterprises can quickly and cost-effectively deploy SIP Trunking services to meet their requirements. The solution has been tested by ShoreTel and is now compliant with Release 14.2.
"OneStream is uniquely positioned to help ShoreTel customers achieve their communications goals," stated Brian Skidmore, CMO, OneStream Networks. "Achieving this certification ensures that these customers will be able to better communicate and collaborate worldwide while driving 20%-50% out of communications operating expense through integration of their ShoreTel infrastructure with OneStream's global SIP network."
OneStream Networks is now a member of ShoreTel's Innovation Network. The ShoreTel Innovation Network provides market and innovation leaders with the opportunity to develop, validate, and document their product's interoperability with ShoreTel UC solutions. Through these Innovation Network partnerships, ShoreTel offers more complete, customer-focused solutions that deliver the best possible experiences for users.
"We welcome OneStream Networks to our partner program and congratulate them on successfully completing compliance testing," commented Shannon Graham, Director, Innovation Network Programs at ShoreTel. "Relationships with service providers such as OneStream Networks help ShoreTel customers optimize the value of their investment with us."
Additional Resources
http://www.onestreamnetworks.com
http://www.shoretel.com/partners/onestream-networks
About OneStream Networks
OneStream Networks is purpose-built for enterprise-grade cloud-based SIP trunk, hosted PBX and Contact Center services. With availability in 65+ countries, global strategic peering networks, geo-redundant POPs and multi-provider MPLS transport options, OneStream delivers unparalleled scope and reach for SIP trunking and hosted PBX/UC services. OneStream has become the standard for enterprise customers, VARs, and agents looking to create cost-savings, consolidation, vendor reduction and simplified management for single site and multi-site, multi-national voice applications. Customers and VARs/Agents count on OneStream for certified voice solutions and best-in-class performance, reliability and support. For more information, visit http://www.onestreamnetworks.com.
For more information contact:
Brian D. Skidmore
OneStream Networks
585-563-1852
info(at)onestreamnetworks(dot)com