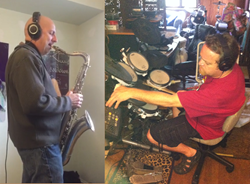 Gilbert says "I focus on the magic that connects people together like Marley did and present it in a darker and reflective way like Peter Tosh, but it has many other flavors that make the music my own."
Reston, VA (PRWEB) January 06, 2016
With over 600 music compositions recorded, 50 albums and 30 music videos completed over the last few decades, Gilbert Engle is working on a new album of Reggae music scheduled for release in January, 2016. Most of his music in the past has focused on rock, jazz rock, jazz fusion, bluegrass, jazz bluegrass and orchestral compositions. Although he has touched on reggae rhythms in the past, this will be his first project dedicated specifically to reggae rhythmic themes.
His current reggae compositions are heavily influenced by Robert Marley, Peter Tosh and many other greats, but include a personal style that is fresh and unique.
Gilbert says "I focus on the magic that connects people together like Marley did and present it in a darker and reflective way like Peter Tosh, but it has many other flavors that make the music my own." The reggae genre continues to grow with artists like Joss Stone, Jah Cure and Stick Figure topping the billboard charts and regular prestigious events like the International Reggae Conference hosted annually by the Institute of Caribbean Studies Unit at the University of the West Indies.
Gilbert works with some of the top talent in the USA's mid-Atlantic area including Peter Fraize on saxophones, Sean Peck on drums, Mike Pryor on bass and Marc Capponi on keyboards. These musicians have worked with legends like Bill Bruford, Marcus Miller and the Holy Rollers, and they are featured on many of Gilbert's albums over the last few years. Most artists record in his home studio, but Gilbert has a mobile studio he uses to record drums. Sean has recorded drums in this way on over 300 of Gilbert's recordings over the last decade.
Unlike most artists that publish music on CD, iTunes and other 3rd party music distribution systems, Gilbert has undertaken the monumental task of publishing most of his music exclusively on a new web portal he designed to provide access to his prolific artistic endeavors. Newjazz.net offers listen and download access to anyone around the world for free.
Although Gilbert has traveled and performed regionally to share his music, he is currently dug into his studio to focus all his efforts in the direction of composing and recording albums, which has taken up most of his time over the last two years and he has no immediate plans to tour. Instead, he has opted to bring his music to a global audience primarily through his web portal.
For anyone interested in new, fresh and unique music, NewJazz.Net offers over 600 free mp3 files for download featuring the music of Gilbert Engle, plus the new album to be released early in 2016. Visit NewJazz.Net or contact Gilbert Engle directly for details on upcoming projects.