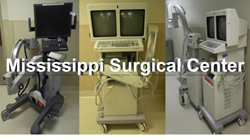 Jackson, Mississippi (PRWEB) December 30, 2015
Founded in 1987, Mississippi Surgical Center is a state-of-the-art ambulatory surgery center specializing in a broad range of short-stay surgical procedures for adults and children. More than 100 physicians and medical staff perform thousands of ambulatory surgical procedures each year in such specialties as Anesthesia, General Surgery, Ear-Nose-&-Throat, Gynecology, Orthopedics, Ophthalmology, Ophthalmic Plastics, Urology, Pain Management, Plastic and Reconstructive Surgery and Urogynecology. 
This auction will take place Thursday, January 7, 2016, starting at 9:00 AM CST. This is a Live Simulcast Auction only. Click here for Registration information!
Radiology Equipment
Orthoscan HD 1000-0004 High Definition Mini C-Arm (DOM 2012)
GE-OEC 9800 Super C, C-Arm with GSP, 9 Inch II
(2) GE-OEC 9800 Plus C-Arm (PM Care and ESP), DOM 2012 and DOM 2003
GE-OEC Miniview 6800 Mini-C, DOM 2003 with CP Package
(2) Oakworks Pain Management Tables
Stretchers
Infusion Equipment
Surgery Patient monitor
Operating Room Tables including (Steris 3080, Amsco 2080)
Zeiss Surgical Microscopes
Alcon Infiniti Phaco Machine
Storz Image 1 Video Towers
Instrument Sets with Power
Power includes Stryker Core, Hall
Patient Monitoring Equipment
Steris 400 Series, Model 20 Prevac Steam Sterilizers
Based in Chicago and with locations in Las Vegas and South Florida, Centurion Service Group is an industry leader specializing in surplus medical equipment auctions. They have been rated the largest medical auction house in the world, selling more than 100,000 pieces of medical equipment every year. Erik Tivin, Chairman and CEO, is regarded as one of the most experienced medical equipment auctioneers and appraisers in the surplus medical industry. His entrepreneurial efforts have continued to expand in the last 20 years, and he serves as an executive on the Board of Directors of the Industrial Auctioneers Association.
Whether it is your first time bidding at an auction, or you are a long-time customer, Centurion Service Group offers resources that will assist you in different steps of the auction process. To get free tips on becoming an expert buyer click here now!
For more information on all our auctions, please visit http://www.centurionservice.com