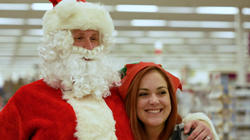 The holiday season is a time of giving, and of showing compassion and care for others.
Manistee, Michigan (PRWEB) January 01, 2016
Bringing good tidings and a message of hope, patients and staff from Best Drug Rehabilitation, a holistic treatment center for substance abuse located in Manistee, MI, took to the aisles of the local K-Mart Superstore to help out area holiday shoppers and support the residents of the community. On Thursday, December 10th, armed with K-Mart gift cards, Santa and his elves walked around the store to hand them out, much to the delight of unsuspecting customers.
"The holiday season is a time of giving, and of showing compassion and care for others," commented Best Drug Rehabilitation founder Per Wickstrom. "For many people who are already living paycheck to paycheck, this time of year also brings extra financial burden. We wanted to show our support for the community that we call home. We hope that our efforts were able to provide a little more holiday cheer this year."
Santa for a Day Chris was one of the patients who went along on the K-Mart excursion, and volunteered to be Santa for the day. In an interview the next day, he shared a particularly touching moment that had occurred as he was helping to spread some holiday goodwill. "I happened to see this little lady, reminded me of my grandmother," he explained. He felt the need to present her with one of the gift cards. As they spoke, she told Chris that all of the items in her shopping cart were for local families in need. "She told me that everything in her buggy, all the gifts, the clothes, the boots, were all for families that didn't have much," he continued. "That really touched my heart. So, she was checking out, and it just felt like the right thing to do to give her another card."
Also along for the trip was Sam, another Best Drug Rehabilitation patient, Veronica Johnson, the Executive Director of BDR, her assistant Katherine Miszewski, and Training Director Jamie Rossi, all of whom were wearing Elf hats and helping Santa with his task. "I got to walk around and kind of find the people that we were going to give the gifts to," Sam said of her experience that day. "Just getting to see their face and how grateful they were for a random act of kindness was awesome." A highlight video featuring Chris and Sam's interviews as well as clips from the K-Mart excursion is available for viewing on the Best Drug Rehabilitation YouTube channel.
Best Drug Rehabilitation is a residential treatment facility for those struggling with substance abuse that takes a through and unique approach to recovery from addiction. Focusing equally on healing the Body, Mind, and Spirit of each patient with a personalized program tailored to fit their individual needs, the BDR treatment strategy is designed to help their patients discover their own path to overcoming their addictive behaviors. Concentrating on uncovering and addressing the underlying causes of the patient's addiction, their program seeks to help their patients discover the tools and skills that they need in order to remain clean and sober after they graduate from the recovery center.
See the video here or go to http://www.bestdrugrehabilitation.com for more information.