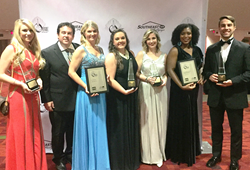 We're proud of the work that our agency has done for our clients throughout the past year, resulting in us being awarded the most OBIEs in company history!
Atlanta, GA (PRWEB) December 31, 2015
"We're proud of the work that our agency has done for our clients throughout the past year, resulting in us being awarded the most OBIEs in company history!" said Carol Morgan, managing partner of mRELEVANCE. "Being honored with nine awards is a testament to the cutting-edge, creative work our talented team does, from public relations and social media to SEO and web development."
mRELEVANCE's 2015 OBIE wins include:
Gold OBIEs
Best Brochure – Corporate-Associate
A creative sales piece that was designed to be small enough for mortgage professionals to carry yet "big" enough to leave a lasting impression, the brochure created for client Guaranty Mortgage features well-written copy and imagery that walks buyers through the mortgage process to home.
Best Website – Corporate-Associate and Best Mobile Website – Associate
The new mRELEVANCE website was honored with two Gold OBIE Awards, as the overall website and its mobile version were awarded for being the best in their respective categories. Since launch, website traffic has tripled and leads have increased by 15 percent. From the second visitors arrive on the main page to the last page visitors navigate to, the website engages them with interactive links and visual content. The site demonstrates leading web design trends, and it is completely responsive across all types of devices. It is an example of how mRELEVANCE works to stay on top of cutting-edge techniques for our clients.
Best Social Media Application – Associate
mRELEVANCE's Dress Your Desk contest was a fun way for team members to show off their creativity by 'dressing' their desk/work area with the theme of their choice. The desks were showcased on Facebook with information explaining the theme, and the top three winners were chosen based on Facebook likes. During the contest, the mRELEVANCE Facebook page had a 10 percent increase in fans and a 40 percent increase in engagement. A total of 937 likes, 92 comments and 28 shares were recorded on the Dress Your Desk photos during the competition.
Best Website – Community
The Providence Group's Bellmoore Park website showcases all of the upscale and elegant homes and amenities offered at this master-planned community in Johns Creek, Georgia. As the developer and only builder of the more than 600 homes at Bellmoore Park, the website provides an elegant, simple and easy-to-navigate design to view everything that the community offers while exemplifying the luxury, lifestyle and attention to detail that homeowners will enjoy at Bellmoore Park. The responsive website was awarded an OBIE for its consistent branding and marketing, and its one-of-a-kind interactive site plan that allows visitors to view real-time information on available homes and home sites.
Silver OBIEs
Best Marketing Campaign/Promotion – Associate (Budget Under $10,000)
The campaign designed to launch the new Marketing RELEVANCE website received a Silver OBIE for Best Marketing Campaign. Consisting of postcards and mRELEVANCE-branded Matchbox cars, the collateral matched the branding of the new website and shared the same "drive more leads" messaging.
Best Social Media Application – Builder/Developer
The Designed to (P)inspire Pinterest contest was developed to promote The Providence Group's first-ever Design Center. Participants were encouraged to create a dream home board using images of items they would include in their dream home for a chance to win a $250 Pottery Barn gift card. The contest was a resounding success, raising awareness about the new Design Center, The Providence Group's Pinterest account and the builder's available luxury features and finishes. In total, the contest received 149 entries!
Best Audio Spot
The longest-running Atlanta new home/home builder-focused radio show, Atlanta Real Estate Forum Radio offers a unique format for industry experts and consumers to get all of the latest Atlanta real estate news. Hosted by Carol Morgan and Bryan Nonni of mRELEVANCE and Todd Schnick of Intrepid Media, the show features three weekly editions – the Deal of the Week, which highlights an incentive or offer by a local builder; Around Atlanta, an interview highlighting an attraction or event that takes place around the city; and All About Real Estate, an industry-focused interview with an expert or insider. Atlanta Real Estate Forum Radio is available for download 24/7 on iTunes and continues to be the largest driver of traffic on the Atlanta Real Estate Forum blog.
Best Interactive Tool – Builder/Developer
The interactive sales tool created for The Providence Group's Bellmoore Park community is displayed through a unique touch-screen kiosk and iPad stations that allow customers to explore the community in a new and exciting way. Designed to be an "interactive" sales agent that can help prospective buyers during high traffic times when an agent may not be available, the tool features community details, photo and video galleries, 3D renderings, amenity information, a visitor survey and the ability to print floor plan brochures directly from the kiosk. In addition, the tool allows visitors to explore the interactive site plan. They can zoom in on specific sections of the community, see what home sites are available, what floor plans can be built on the site and so much more.
The Greater Atlanta Home Builders Association's OBIE Awards celebrates its 35th anniversary in 2015. The awards began in 1980 and have grown throughout the years to include more than 100 building, remodeling, marketing and personal achievement categories. The OBIE Awards are named after the obelisk shape of the actual award given. To see all of this year's OBIE award winners, visit http://www.AtlantaRealEstateForum.com/OBIEs.
About Marketing RELEVANCE:
mRELEVANCE, LLC creates relevant marketing and communications that reach audiences with focused and strategic messages. Through technology and creative content, messages are delivered to target markets to encourage customer action and interaction creating ROI for clients.
With offices in Atlanta and Chicago, mRELEVANCE can connect your company with buyers and build relevant relationships nationwide. For more information, visit http://www.MarketingRELEVANCE.com, Like us on Facebook at http://www.Facebook.com/mRELEVANCE, Follow us on Twitter at @mRELEVANCE or call 770-383-3360 or 847-259-7312.