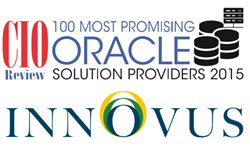 Innovus Partners has been on our radar for some time for stirring a revolution in the Oracle landscape
(PRWEB) January 11, 2016
CIOReview's annual list showcases the 100 Most Promising Oracle Solution Providers; Innovus Partners LLC makes it to its top Solution Providers list for its expertise in Oracle's Hyperion Enterprise Performance Management (EPM) and Business Intelligence (BI) services and solutions.
CIOReview (http://www.CIOReview.com) has chosen Innovus Partners (http://www.innovuspartners.com) for its 100 Most Promising Oracle Solution Providers. The positioning is based on evaluation of Innovus Partners capabilities in Enterprise Performance Management and Business Intelligence.
The annual list of companies is selected by a panel of experts and members of CIOReview's editorial board to recognize and promote technology entrepreneurship. "Innovus Partners has been on our radar for some time for stirring a revolution in the Oracle landscape, and we are happy to showcase them this year due to their continuing excellence in delivering top-notch technology-driven solutions." said Jeevan George, Managing Editor, CIOReview. "Innovus Partners is honored to be recognized by CIO Review's panel of experts and thought leaders," said Managing Partner and Founder, RJ Linehan.
About Innovus Partners
Innovus is a full service provider of Enterprise Performance Management (EPM) and Business Intelligence (BI) implementation services on the Oracle/Hyperion platform. As a trusted advisor, Innovus partners with its clients to champion their vision of business analytics and help navigate the complexities of delivering that vision across the enterprise
Headquartered in the New York Tri-State area, Innovus Partners has forged strong partnerships with several Fortune 500 companies through our zealous commitment to customer service and a pioneering development methodology focused on insuring project success.
Our Oracle certified consultants are considered thought leaders in the industry and we proudly boast a clientele that are 100% reference-able! Innovus is an Oracle Gold Partner and active in local and national Oracle User Groups to help advance our customers' knowledge of business analytics and further maximize their return on investment in EPM and BI solutions.
About CIOReview
CIOReview (http://www.CIOReview.com) constantly endeavors to identify "The Best" in a variety of areas important to tech business. Through nominations and consultations with industry leaders, our editors choose the best in different domains. Oracle Solution Providers is an annual listing of 100 Most Promising Oracle Solution Providers in the U.S.