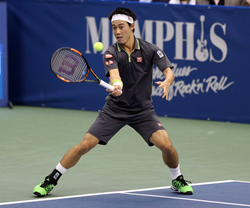 We are excited to announce a field that includes current and past champions, some exciting young players, the return of Tommy Haas and the Bryan brothers and the pro debut of Wimbledon junior champion Reilly Opelka
MEMPHIS, TENNESSEE (PRWEB) December 29, 2015
The Memphis Open presented by ServiceMaster announced today the official ATP Tour's acceptance list of professional tennis players that will be competing in the 2016 Memphis Open presented by ServiceMaster at the Racquet Club of Memphis. Tickets for the Memphis Open presented by ServiceMaster start at $10 and are available at http://www.memphisopen.com. The Memphis Open celebrates 40 years at the Racquet Club of Memphis in 2016.
"We are excited to announce a field that includes current and past champions, some exciting young players, the return of Tommy Haas and the Bryan brothers and the pro debut of Wimbledon junior champion Reilly Opelka," said GF Sports president Jerry Solomon. "The story lines that will unfold during tournament week will provide the perfect compliment to the ancillary entertainment and other activities we have planned. The Racquet Club of Memphis will once again be the place to be during the first week of February."
Kei Nishikori, the returning 26-year old Memphis Open champion who's birthday is today, December 29, is the highest ranked player competing in the 2016 Memphis Open presented by ServiceMaster holding the ATP No. 8 ranking. Kevin Anderson follows Nishikori with an ATP No. 12 ranking. Nishikori and Anderson met in the championship singles finale last year so organizers are saying there is a good chance to see a rematch again this year.
This year's player list also features several of the top American tennis talent, including Steve Johnson ranked No. 32, Donald Young ranked No. 48, and Sam Querrey ranked No. 59. Johnson was among the most successful college players in NCAA history according to Phil Stuckenborg, deputy sports editor of the Commercial Appeal. Querrey won the Memphis Open in 2010. Young had a great showing at the US Open losing in the 16th round to French Open Champion Stan Wawrinka.
Three singles past champions and one doubles past champion team are returning to compete in the Memphis Open presented by ServiceMaster this year. Sam Querrey won in 2010; Tommy Haas won in 1999, 2006, and 2007; Nishikori won in 2014, 2014, and 2015; and The Bryan Brothers won doubles championships in 2001, 2004, and 2013.
Haas and Nishikori both have the chance to tie Jimmy Connors with the most Memphis titles won if either of them win their fourth championship this year. If Nishikori wins this year he will be the first to win four consecutive Memphis Open titles. Connors won the Memphis Open in 1978, 1979, 1983, and 1984.
Bob and Mike Bryan, also known as the Bryan Brothers and 15-time Grand Slam Champions, have the chance to tie Todd Woodbridge and Mark Woodforde with four Memphis Open doubles titles if they win the doubles championship this year. Woodbridge and Woodforde won Memphis doubles championships in 1992, 1993, 1998, and 1999.
"The player announcements are not over," added Tournament Director Erin Mazurek. "We still have two main draw singles wildcards to determine between now and February, and our discussions to this point have been quite compelling and will add excitement to the overall player draw. Be on the lookout!"
The official list of singles main draw players for the 2016 Memphis Open presented by ServiceMaster is below. The main draw build is based on 19 direct acceptances, four will advance from qualifiers, three from wildcards and two special exempt spots. Competitors listed as:
Name
Country
Rank
Anderson, Kevin
RSA
12
Kukushkin, Mikhail
KAZ
65
Becker, Benjamin
GER
97
Lu, Yen-Hsun
TPE
77
Berankis, Ricardas
LTU
85
Marchenko, Illya
UKR
94
Dzumhur, Damir
BIH
82
Millman, John
AUS
92
Granollers, Marcel
ESP
84
Nishikori, Kei
JPN
8
Groth, Sam
AUS
60
Querrey, Sam
USA
59
Haas, Tommy
GER
25
Ram, Rajeev
USA
89
Jaziri, Malek
TUN
103
Sela, Dudi
ISR
100
Johnson, Steve
USA
32
Young, Donald
USA
48
Kudla, Denis
USA
69
Memphis Open may be found online at:
http://www.MemphisOpen.com
http://www.Facebook.com/memphisopen
http://www.Twitter.com/memphisopen
About Memphis Open Presented By ServiceMaster
The Memphis Open is one of the longest-running American tournaments on the ATP World Tour and the only indoor ATP event contested in the United States is celebrating its 40th anniversary at the Racquet Club of Memphis in 2016.
Men's champions have included a "Who's Who" of the tennis world: Andre Agassi, Jimmy Connors, Bjorn Borg, Jim Courier, Stefan Edberg, Ivan Lendl, John McEnroe, Andy Roddick and Pete Sampras. Doubles champions include three of the greatest tandems of the Open era: Bob and Mike Bryan, Ken Flach and Robert Seguso, and Todd Woodbridge and Mark Woodforde, among others.
About GF Sports
After the successful completion of the Memphis Open presented by ServiceMaster in February 2015, GF Sports, LLC, a newly formed integrated event content company, formed by the New York-based financial management company GF Capital Private Equity Fund, and its founder Gary Fuhrman, along with long time sports executive, Jerry Solomon and his Lynnfield-based company, StarGames acquired the Tournament. GF Sports has committed to reinvigorating the Memphis Open brand and bringing back the love so many local, regional and national fans have enjoyed over the last 40 years.
###