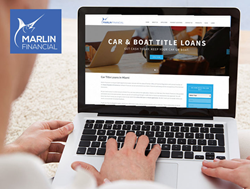 Marlin Financial does all the legwork so the borrower doesn't have to.
Miami FL (PRWEB) December 31, 2015
Marlin Financial, a Miami-based alternative lending solution, has announced today the development of an online system that provides collateral boat and car title loans for individuals and businesses throughout Florida.
Poised to become the premier title loan solution in Miami, Marlin Financial is not a bank, but has the financial capacity of one. Because it deals in private funds, it avoids the provisions that regulate banks.
Marlin Financial is an Equal Credit Opportunity lender, licensed with the state of Florida's Office of Financial Regulation and a member of the Miami Chamber of Commerce.
The Marlin online system is transparent and streamlined. The prospective borrower simply needs to enter their contact information and vehicle information via the Marlin Financial website, and then is provided with a free quote on how much money they can borrow using their car or boat title as collateral.
Marlin offers numerous convenient locations throughout the entire state of Florida where customers can quickly gain access to their funds, often in as little as 24 hours.
The paperwork is handled beforehand and clients are guided through the entire process. Immediately after applying, prospective borrowers are paired one-on-one with a Marlin Financial advisor who works closely by phone with clients to design a plan. Loan packages are flexible customized to borrowers' unique needs and budget.
"Marlin Financial does all the legwork so the borrower doesn't have to," Smith said. "We conduct our business online in order to make the process for a car or boat title loans as simplified as possible," he said. "You won't need to drive to a bank or credit union, stand in a long line, wait to be helped, or fill out a thick stack of paperwork."
Moreover, there is no cost to apply and clients do not need to agree to any terms until they are completely satisfied, Smith explained.
"Here at Marlin Financial, we are committed to our clients' financial well-being and the ease and simplicity of the title loan transaction," said Marlin Financial Public Relations Director William Smith.
Marlin Financial offers competitive interest rates and fair repayment terms. For example, there are no pre-payment penalities and no credit history checks.
"We believe in fairness and transparency," Smith explained. "We allow you to pay in manageable installments, because as we said before, we never want you to be stretched beyond your means."
For more information visit marlincash.com