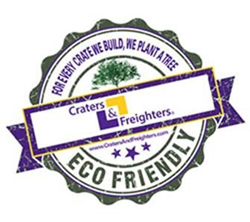 We are thrilled knowing our Plant a Tree campaign can make an impact for environmental restoration and will contribute to these sustainability efforts, restoring dying farmland
Golden, CO (PRWEB) December 30, 2015
This year, Craters & Freighters celebrated 25 years in business as the Nation's leading specialty crating and shipping company. To help celebrate the company made a commitment to replenish natural materials used, by partnering with Arbor Day Foundation and Trees for the Future. Since June of 2015 Craters & Freighters has supported the planting of 27,500 trees, a tree for every crate built.
"Planting trees creates hope for future generations. Our goal is to give back to communities and to do our part to help replenish national forestry, driving sustainability," stated Diane Gibson, Founder and CEO of Craters & Freighters. "The simple act of planting trees will help to sustain communities and the environment in countless ways."
The newest project of Trees for the Future will help communities in and around Singida, Tanzania, to improve their lives by planting millions of trees in new forest gardens. The project will start with 300 families living 150 miles northeast of the capital of Dodoma, and it will grow to impact thousands of families as additional support is acquired. The families entering the program are struggling to feed themselves, let alone to earn the money they need to buy clothes or send their children to school. The zone is poor, dry and in desperate need of this forest garden project.
The packaging and transportation industry, by its nature, is an eco-offender. Craters & Freighters believes there is an opportunity for eco-awareness and improvement. "We are thrilled knowing our Plant a Tree campaign can make an impact for environmental restoration and will contribute to these sustainability efforts, restoring dying farmland," stated Matthew Schmitz, COO of Craters & Freighters.
About Craters & Freighters
Craters & Freighters was founded in June 1990 to meet the needs of businesses and consumers for specialty freight handling. For over two decades, Craters & Freighters has been meeting America's custom shipping needs with consistent, high quality professional packaging, crating and worldwide transportation services. We are looked to by both consumers and businesses to protect their assets with our unique range of services.
The company serves consumers and businesses in all sectors including telecommunications, electronics, medical equipment, aerospace, biotechnology, and heavy machinery. With Expertise that Delivers, the company dominates the specialty freight industry.
Learn More at: http://www.cratersandfreighters.com
About The Arbor Day Foundation
The Arbor Day Foundation is a million-member nonprofit conservation and education organization with a mission to inspire people to plant, nurture, and celebrate trees. More information on the Foundation and its programs can be found at http://www.arborday.org.
2015 Michigan State Forest restoration report: Superior State Forest, MI - The Michigan Department of Natural Resources has a goal of planting one million Jack pine trees to improve habitat for the endangered Kirtland's warbler. This neotropical migratory songbird's breeding habitat is almost exclusively confined to young, dense Jack pine stands in the area. Today, Kirtland's warblers are found in only ten counties on Michigan's northern lower Peninsula and four counties in the upper peninsula. Efforts by our replanting partners have increased the number of singing males from less than 200 to more than 1,900, bringing the species back from the brink of extinction.
About Trees for the Future
Trees for the Future doesn't just plant trees for their ecological benefits, but to benefit people in need. Technically speaking, we are an agroforestry charity. Agroforestry intentionally combines agriculture and forestry to create integrated and sustainable land-use systems. Trees and shrubs are planted near crops and/or livestock, to the benefit of all.
By integrating farming, animals, people and trees in the same space, we achieve improved soil quality, higher crop yields, and improved standards of living. We believe strongly that people must know the value of agroforestry and its benefit to them if they are to withstand pressure from developers or others who wish to strip trees from an area. Our role is to train communities in the latest agroforestry techniques, and to help spread and promote them.