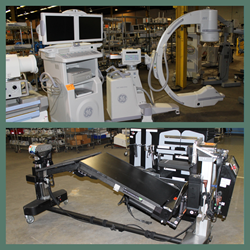 Chicago, Illinois (PRWEB) December 31, 2015
Centurion Service Group is very excited to bring to you the live simulcast auction selling an impressive catalog of medical research equipment.
This auction will take place Tuesday, January 5, 2016 and Wednesday, January 6, 2016 starting at 9:00 AM CST both days via theater style and live simulcast. Click here for registration information.
-OSI Jackson Axis Table with Accessories
-OSI Jackson 5856 Table with Accessories
-GE OEC 9900 Elite with GSP, 9 Inch II, DOM 2010
-Leica F40-ULT 500 Surgical Microscope
-Drager Babylog 8000 Ventilators
-Olympus Evis 180 Full System
-400+ Defibrillators
-Drager Fabius GS Anesthesia Machines
-HISEQ 1500 Illumina Sequencer
Based in Chicago and with locations in Las Vegas and South Florida, Centurion Service Group is an industry leader specializing in surplus medical equipment auctions. They have been rated the largest medical auction house in the world, selling more than 100,000 pieces of medical equipment every year. Erik Tivin, Chairman and CEO, is regarded as one of the most experienced medical equipment auctioneers and appraisers in the surplus medical industry. His entrepreneurial efforts have continued to expand in the last 20 years, and he serves as an executive on the Board of Directors of the Industrial Auctioneers Association.
Whether it is your first time bidding at an auction, or you are a long-time customer, Centurion Service Group offers resources that will assist you in different steps of the auction process. To get free tips on becoming an expert buyer click here now.
For more information on all our auctions, please visit http://www.centurionservice.com